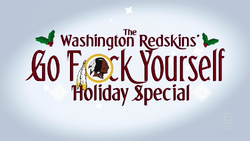 The Washington Redskins: Go Fuck Yourself Holiday Special is a holiday theme TV program featuring many celebrities and holograms of celebrities. It was seen in the final episode of Season Eighteen, "#HappyHolograms".
Background
The unnamed Record Producer and CartmanBrah team up to bring the public the best holiday special ever created. The name is a callback to the plot of the first episode of Season Eighteen, "Go Fund Yourself" where Eric Cartman gains the name rights to the Washington Redskins and uses it has his start-up company.
Performances
The holiday special started off with the Kurt Cobain Hologram performing "Up on the Housetop" before firing a shotgun with a flag saying "Merry Christmas" which is a reference to how Kurt shot himself in real life.
The next performance was a duet with Iggy Azalea, her oversized buttocks, and the Elvis Presley Hologram singing "Have a Holly Jolly Christmas ".
The special was said to have ended with Bill Cosby (who was really a hologram) and Taylor Swift, performing "Baby it's Cold Outside", while Cosby was trying to molest Swift, just like his real life accusations of raping.
Throughout the holiday special, Kyle Broflovski attempted to disrupt the show by protesting it using the Twitter trend topic #Savethelivingroom. But instead, the people followed the #Ihatecartmanbrah trend due to Cartman. PewDiePie came from the #Webelieveinyou trend everyone was doing. CartmanBrah was defeated by PewDiePie stopping the show to play Call of Duty: Advanced Warfare.
Celebrities
Al Pacino
Iggy Azalea (and her unexpectedly large butt)
J.J. Watt
Miley Cyrus
Tom Hanks
Lady Gaga
Tony Bennett
Holograms
Community content is available under
CC-BY-SA
unless otherwise noted.