Hey everybody HighJewElfKing here! We're just hours away from details on the first episode of Season 23! This is a big deal with South Park recently renewed for three more years and South Park crossing episode 300 with the third episode this season! According to Fandom analytical data and the recent decisions from Comedy Central it's clear that South Park isn't dying anytime soon! With this new season details just hours away, I know that lots of things change between December to September. We've welcomed new users in Discussions, on the wiki and on our totally amazing Discord. With all of the new people, I wanted to take a moment to discuss with you all editing the wiki during the new season, and where and how you can help!
New editors: If you're new to this kind of thing, I get it, it looks confusing. But the good news is there are lots of ways you can get help. Let's go through that first.
Help Editing
We have three ways to support you with your editing adventures.
3. Page Finder: If you are anything like me when I first started editing, you probably don't know what pages to edit. This tool helps because throughout the season we will have some of the biggest pages we need editing help with showing up in one easy spot. We'll be updating this throughout the season after each episode so be sure to check back for new articles to edit!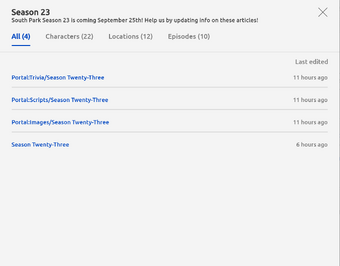 Editing Support
If you need help any step of the way with editing, there are lots of ways you can get help.
2. Wiki Forums/ Discussions: You can leave a post on the wiki's Forum or Discussions with your problem and we will get back to you! You can also reply here if you have any questions.
3. Fandom/Gamepedia Discord - Fandom has a Discord, with lots of people who can help you, to join Click here
4. The Awesome South Park Archives Discord - Our Discord has tons of benefits, but we have a ton of editing help channels, like #editingcrashcourse and #editing-help. Becoming an editor also gives you access to exclusive channels in the server like #thegang and #thelounge, and #editorchat. To join, click "connect" in the Discord widget!
South Park Archives Rules and Policies
Yes, I have to mention that we do have rules and policies for editors to follow, you can read all of this stuff Here and Here. Some notable and important ones are:
You must source major changes and back it up with evidence such as changes to a character's birth date.
We do have policies in place for article comments, remember unless it's a blog post page, article comments should ONLY be on how to improve the article. You can read more on the Article Comments Policy here.
Finally, some articles may be locked due to admin-only allowed tasks, and high traffic. If there's a change you'd like to see made, or would like to make a change to an article please let me know on my Message Wall.
I really hope to see you all in our Discord as we prepare for details on the first episode in just a few hours. If you have any questions about wiki editing, do not be afraid to reach out to any of our Administrators. We are here to help you!
Happy editing!
Community content is available under
CC-BY-SA
unless otherwise noted.