Hello everybody, HighJewElfKing here with a look at our new wiki redesign for the Fandom Desktop skin. The new design is available starting today for day and night modes. We will continue to be making tweaks to the design and templates in the coming days. Our plan when everything is good is to make the wiki ready with Fandom so that the design can reach logged out users faster, as the wiki may no longer display properly for Oasis skin users.
The New Night Mode!
The most exciting part of the new FandomDesktop skin is the new night mode. We wasted no time using this on SPA in a big way. With this redesign, we wanted to use dramatic scenes from the show. That is exactly what we did with our night mode, pulling from the trailer for Fractured But Whole. (Of course with Cartman added for dramatic affect). We also changed the content area background color in dark mode.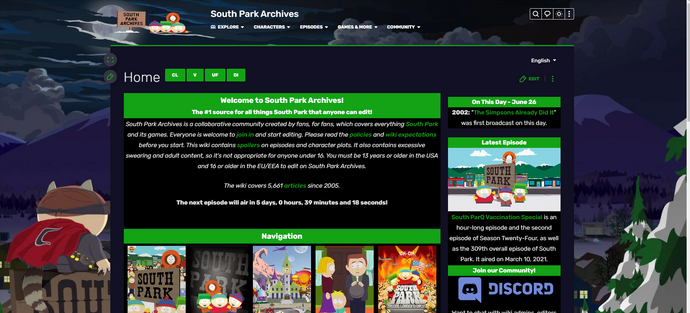 Day Mode
For Day Mode, we're sticking with the landscape of the show. Visiting Stark's Pond. Most of the wiki looks unchanged in this mode except the background. You can see what this looks like below.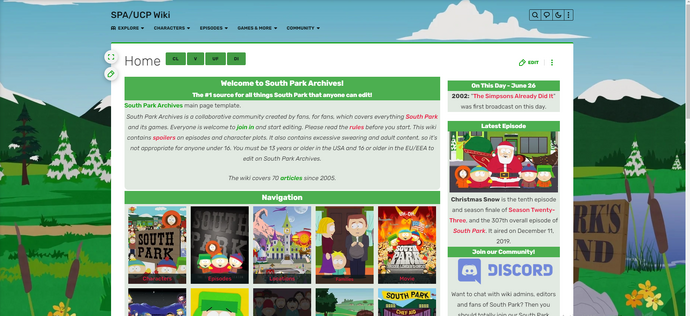 Templates
Longtime wiki users may notice we changed our wiki's signature green color from a lighter green to a darker green, which was used on SPA before. We also added a green line across the top of the wiki navigation and between sections on pages, like here in this blog post. You may also notice templates displaying incorrectly on Day/Night mode and if you do we encourage you to share this with us in Discord in #wiki-general.
Current Known Issues
Users on Safari on MacOS and users on any iPadOS web browser may notice the background does not display correctly. This has been reported to Fandom and appears to be a Fandom issue. We're aware images in our galleries also have exorbitant borders around the pictures, and a fix is being worked on by Fandom. Users on the old Oasis skin will likely notice multiple issues with templates, we encourage users with Fandom accounts to move to Fandom desktop, instructions are below.
Move to Fandom Desktop
Most users logged in with Fandom accounts will notice a top banner notifying them to try the new "unified look and feel" you should click that. If you do not see this, to switch to FandomDesktop follow these steps.
Hover over your profile and select "My Preferences"
Select "Skin"
Change from Oasis to Fandom Desktop. I recommend leaving the Content Width, Right Rail and Theme settings as default until you try out switching them on the fly in the new skin.
What's Next
We aren't stopping here. We're actively investigating new fonts, and a new wiki logo. More news on both are expected to come as we get closer to the main FandomDesktop release. I want to extend a huge thank you to our amazing Bureaucrat SG for his work on this redesign. If you have feedback or questions, please get in touch with us. Enjoy the new South Park Archives Design!