Welcome to the May edition of the State of the Wiki. It's been quite a while, so in this post I'll talk about changes made in the past month and what's to come for the wiki and lots of exciting news.
General News
NOTABLE: I've been hired by Fandom! I will be working starting tomorrow (May 15th) with the Movies and TV Wiki Manager team helping admins of TV and Movie communities across Fandom. This means that I'll be an employee of Fandom and you'll see me around the network a lot more shortly. I'll be more than happy to share more information about the program with you all via Discord or on my message wall.
NOTABLE: We've got two new feeds mod's here on the wiki (and Discord mods) Airborn56 and RickGT! (Airborn has been on the Discord for a while and has proven himself as not only a diehard fan, but someone that I knew was right for this position. Rick has been a friend of mine from the Fandom Community Council and after finding out he was a big fan of South Park, it only made sense to bring him on here at SPA.) Please join me in congratulating our new feeds and Discord mods.
In the coming summer months we're going to have a new commitment on a few subjects we've talked about for awhile more on this later in the post!
Want to help out with the Tabbed Infobox Project? See this page!
Want to keep up to date with Projects on South Park Archives? See this page!
You can vote for June's Here.
Updates on Projects
Here is where we stand with projects at this time:
We are going to be working on our homepage project soon and the goal is to have a new homepage by August.
I am currently working on a new background for our wiki set to launch by mid-June the latest.
We will be conducting a review of our Manual of Style and policies later summer.
We will have some updates during this summer regarding our video game content for Phone Destroyer and Fractured But Whole- Stay Tuned!
FANDOM Mobile App
With the FANDOM mobile app, you can stay connected and read up on South Park wherever you are! Get access to all articles and pages on South Park Archives and discussions. As well as other cool features like videos and more.

To get started using the FANDOM app, follow these steps:

Download the app from your device's app store

Log in with your FANDOM account

Under the search box, type in "South Park"

Be sure to hit the follow button to quickly access South Park Archives in the future from the app home screen!
That's a wrap!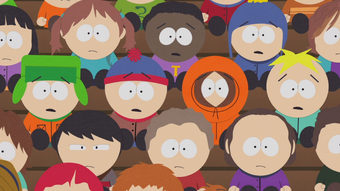 Thank you for reading South Park Archives' State of the Wiki for May 2019! Join us again next month, there will be a lot to report on. If there's something you'd like to see featured next month, let us know in a comment below!
Community content is available under
CC-BY-SA
unless otherwise noted.