What a season it has been, South Park last night officially wrapped up it's historic 20th season. We've seen it all this season, from President-Elect Garrison to Skankhunt42 and of course, the Member Berries. In this special blog post, the South Park Archives Admins will share their thoughts on the season, and we will explain how you can share your thoughts and favorite moments on Season 20 on the wiki.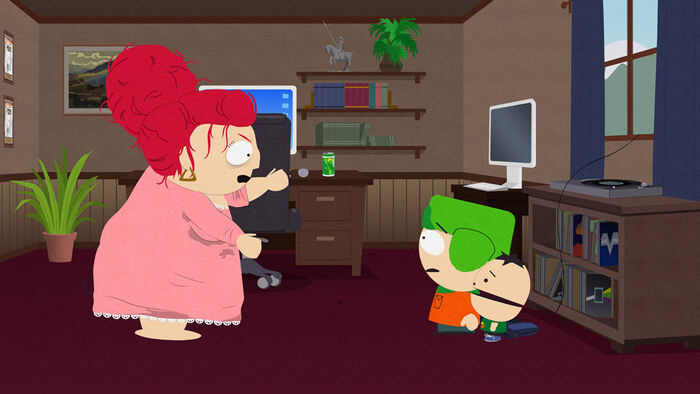 Polls
First and foremost, Let's take two polls one for the season finale and one for the season as a whole.
What did you think of "The End of Serialization as We Know It"? Give reasoning for your answer in the comments.
What was your favorite episode of Season 20? Give reasoning for your answer in the comments.
Easy, we've created three ways for you to share your thoughts about this season. First, you could share your thoughts using the Discussions Feature. In addition you can use our Season 20 Finale Forum thread. You can also as always leave a comment below. We'd love to know what you all thought of the season, so be sure to share your thoughts!
Administrator Thoughts
Administrators were asked to share their favorite quotes, clip and thoughts about the season.
Favorite Clip of Season 20:
Favorite Quote of Season 20: "Humans. On Mars." - Eric Cartman, "Wieners Out"
Season 20 Thoughts: I really enjoyed this season and I thought it did a really good job of telling the stories it did. I found that Mr. Garrison was pretty funny as President.
We got to see a lot of characters return this season after not appearing or speaking for many years. It was cool to see characters like Mr. Slave make a surprise appearance. Even Stan's dog Sparky made a cameo!
I was a little perplexed as to why Kenny did almost nothing this season. He didn't have much, if at all, screen time and only said 3 words the whole season. I was half expecting a Mysterion comeback, but alas it didn't happen. At least he was there at the end though!
The entire Wieners Out movement with Butters was one of my favorites. Seeing Butters stand up for what he believes in, and do it strongly, was brilliant. He maintained that throughout the season and really pulled through in the end.
Another part of this season that I really enjoyed was Elon Musk voicing himself. He's got to be one of the coolest people and he voiced his own character on the show! Freaking awesome, and I hope he comes back again next season. I can't wait to hear the commentary about it!
Overall, one of the most storyrich seasons yet and they certainly did an amazing job. I rate Season 20 9/10; definitely one of my favorites! They wrapped up all the stories nicely and really put South Park in a really good position for the next season. I can't wait!
Favorite Clip of Season 20:
Favorite Quote of Season 20: "Girls Rule. Women are funny. Get over it -Eric Cartman"
Season 20 Thoughts: Hard to believe we made it through the 20th season. I liked the storyline in season 19 and here in S20, it was no exception. This season's storyline was stellar and is a new favorite of mine. The Skankhunt42 debacle left me wondering what Gerald what do week after week.
Trey and Matt tackled what they needed to tackle this season I feel. We had presidential candidate Garrison and in November, President Elect Garrison. Garrison was almost a exact clone copy of President Elect Trump towards the end of the season. I remember during the 1st episode trailer, they already tackled Colin Kaepernick. If anything was left out of Season 20 in my opinion, there was no take on Pokemon Go, Chimpokomon Go. But this could be because the game's popularity drastically dropped after the summer.
I really thought the overall storyline was solid. I was a little sad after that ending scene in Skankhunt, but in return, we got Cartman and Heidi. Which was a cute addition. They set this season up where you just couldn't wait to find out what happened next. I loved more screen time for the Broflovski family, even though Gerald didn't make it so positive sometimes.
Two more minor complaints, first and foremost. The lack of Kenny was seriously not cool and I certainly hope he'll be in full swing next season. Also, I really liked David from season 19 and was sad to see he had no role in any episode this season. No FBW related superhero episode was a small letdown to me also, but at least they aired ads about it.
Now, to the Member Berries. I loved the berries, I mean, who didn't?! Their voices made me laugh a lot and while sometimes I thought they were speaking gibberish. They actually made some good points in some episodes. I believe it was a really good edition to the storyline this season, I mean again, who doesn't love talking berries?
Other new characters like Dick and Lennart fell into place with the troll storyline, as did Trolltrace. I thought this part of the season was great and well put together. The girls response in Skank Hunt in particular was pretty great.
Cartman's journey to Mars did seem originally as added fluff to me, but after awhile it grew on me and I liked the concept Trey and Matt had with that.
Overall though, I loved this season and think the storyline was done terrifically. Luckily, in the last two seasons, the finale has left us with most of our questions answered. This ending still has to make us ask about the boys and girls relationships which hopefully will be repaired next season. Again, I loved this season and thought Trey and Matt knocked all the story elements from Skankhunt42 to Member Berries to Garrison out of the park, and it was certainly a jam packed, beautiful season. (9/10)
Favorite Clip of Season 20:
Favorite Quote of Season 20: "Member (Star Wars reference)? Oh I member!" -Memberberries
Season 20 Thoughts: I've enjoyed this season as it has had some really great parts, however, I miss the older seasons that didn't have just one story per season.
South Park captured the Presidential election perfectly, bringing back the Giant Douche and Turd Sandwich. I think Mr. Garrison as the president is going to be great and the next 4 years of South Park are going to be hilarious.
It was an interesting storyline and one of the best parts of it were the Memberberries. I was a bit upset at the absence of them in the finale, but I'm sure they'll be back in Season 21.
There are some things I miss from the earlier seasons. Cartman has turned nice and has a girlfriend, which may mean that the Evil Cartman has gone, but hopefully not. All shows need a main antagonist, and for me, Cartman is (or was) that.
Along with many other people, I was upset by the absence of Kenny, one of my favorite characters. We were all expecting Mysterion but that didn't happen. Hopefully he will have a bigger appearance in the next season.
Unfortunately, this season once again saw the end of Stan and Wendy's relationship. Although the scene it happened in was hilarious, it was also kind of sad. Hopefully they'll get back together in the next season.
The seasons have got shorter, which means you've got less to enjoy, but it was still a great season. 8/10
To Wrap It Up
This easily could've been one of the best seasons of the show yet, let alone the fact that we reached the 20th season is already historical in itself. I want to thank the readers and wiki visitors and editors for all they do and a huge thank you to my fellow admins for their hard work during this season. Keep in mind there is still plenty to read and edit on South Park Archives while we all excitedly wait for Season 21. Also early next year we have The Fractured But Whole which should be amazing. As always a few things to quickly 'member:
Grab our wiki app here: South Park Archives Mobile App
Be part of the South Park Archives Group Photo: There
Thank you all for your support this season! -HighJewElfKing
Community content is available under
CC-BY-SA
unless otherwise noted.