December 2018's winner is: Woodland Critter Christmas!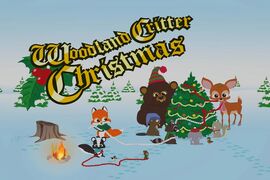 Happy December and congratulations to everyone who voted for Woodland Critter Christmas! Those crazy critters came in first place with 6 votes. Red Sleigh Down, HappyHolograms and Merry Christmas Charlie Manson! all had 1 vote. It's Christmas in Canada had just 0 votes :( You can read about Woodland Critter Christmas by clicking the photo to the right!
Vote now for January's Featured Article
Next month, it's January 2019! Vote for your favorite main character! (Kyle won in October, so my bby is excluded and Butters will take his spot this time around)
Vote for the next featured article of the month, Here:
Nominate your favorite article for February!
Remember, everyone can nominate a page they'd like to see in the polls. If you'd like to nominate a page, be sure to leave a comment! Be sure to visit South Park Archives:Featured article of the month for more details about how to nominate. Be sure to keep an eye out on the notifications for the State of the Wiki post coming later this month. Happy Voting!