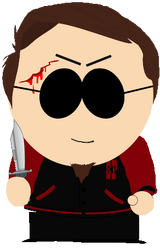 About Me
Hello, my name is HP Bloodshed, or as my friends call me, Whitey. I, as of now, am the pug president, fuck you Scooby Doo! I also am a big advocate of the Grand Old Party, I need to catch up on my Bible reading. I am, most importantly, a South Park fan and you,
<insert name here>
, are not as awesome as myself, just saying. I am also big on music, okay, I am the one.


This user is an admin!
This user has administrator status on South Park Archives and is a good source of help.
Here are my hopes for this wiki:
To live long enough to suffer monetary issues due to obsession.
To be pretty fly, for, of course, a white guy.
Make page on my chicken soup recipe.
Interests
My interests are as follows:
Hip-Hop (Don't tell Boehner)
South Park (No shit)
Drawing (Quite an artist, stemmed from the love of the show, Courage the Cowardly Dog, that was the shit)
Horror (I am quite familiar with this genre)
Comedy (I'm funny... At least I'm funnier than

<insert name here>

...)
My Duties
Ha-ha
For Season Seventeen
Plots
TV Channels
Objects/Items
Episode Pages
Episode Templates
Trivia
Best to Worst:Season Seventeen
Community content is available under
CC-BY-SA
unless otherwise noted.