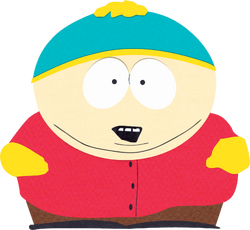 Cartmans are Red, Craigs are Blue, My name is Kylebrovninteynine, and I spend most of my time watching South Park.
My 5 Favorite Episodes
Advertisements Triology (Sponsored Content, Truth and Advertising and PC Principal Final Justice)
You're Not Yelping
Cat Orgy
The Tooth Fairy's Tats 2000
The Death Camp of Tolerance- And by the way I don't get why people didn't get the fact that the journey through Mr Slave was a reference to the Hobbit.
My Favorite Characters
Cartman
Kyle
Kenny
Stan
Red
Wendy
Saddam Hussein (South Park)
Satan (South Park)
Butters
General Tso
Bradley Biggle
PC Principal
Clyde Donovan
Tweek
Every South Park Charecter (AGIAN)
Favorite Qoutes
"You guys are hella stupid, you guys are hella'lame"-
"Suck My Balls"- Gary
"Jimmy, that's your dick talking"
"An African-American flips a turtle over on its back. A transgender Filipino comes and sees the helpless turtle baking in the sun. What Color is the Filipino's father? I didn't think you we're human"
"You're Expelled"
Community content is available under
CC-BY-SA
unless otherwise noted.