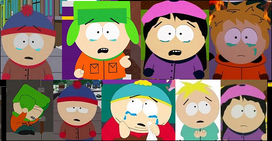 Humble folks without temptation.
Hi, I'm Dominic and I'm heading on down to South Park to unwind, leave my woes behind, and meet some friends of mine. I'm a Fan Fiction writer, comic book enthusiast, reference master, Kaiju movie fan, occasional image editor, and a devoted South Park fan. I hope to enhance this already fantastic Wiki any way I can.
Another night again: Another journey without friends. Another fight to wish away the lonliness we live. Even in South Park, stars are only visible in darkness. Fear is ever-changing and evolving.
I'm not going anywhere. I'm here to stay! Foever and ever!
On a random but related note, I really hope the new season of South Park focuses on character development and features some more dramatic storylines.
My Favorite Episodes
-Good Times with Weapons
-Ass Burgers
-Make Love, Not Warcraft
-The Return of Chef
-Woodland Critters' Christmas
-Kenny Dies
-Cartmanland
-South Park is Gay!
-City on the Edge of Forever (Flashbacks)
Tom's Rhinoplasty
My Favorite Characters
Stan Marsh
Kyle Broflovski
Kenny McCormick
Butters Stotch
Wendy Testaburger
Tweek Tweak
Clyde Donovan
Community content is available under
CC-BY-SA
unless otherwise noted.