Top 10 list:The Worst Thing About South Park
To-do list
Spruce up the episodes pages by laying out at least one extra image for each of them, if I can find something relevant and interesting to put there.

Completed

Season 1abc
Season 2a
Season 11ab

Take pictures for all pages that need them.
Take better pictures for all pages that need them (except ones where no such picture could yet exist, like for Karen McCormick.)
Complete "Spoiler Free List of Episodes"
South Poll
How much did it shock you when the therapist turned out to be Tuong Lu Kim?
Coon Vs. Coon & Friends had a deliberately anti-climactic ending by completely snubbing Kenny/Mysterion, not really explaining why he dies all the time and denying him what looked like was going to be Kenny's finest hour. Obviously, this was meant to be funny. But do you think it should have had a more traditional ending, explaining everything about Kenny's deaths and allowing him to defeat the monster instead?
Do you think the "shake weight" joke was done too many times?
What was the single most disturbing/wrong thing the show has ever done?
Older poll: "We now know that 200 and 201 will be on the season 14 DVD set, but do you think they will be uncensored?" Six people voted no, nobody voted yes. And what would you know, that's exactly what happened.
Number one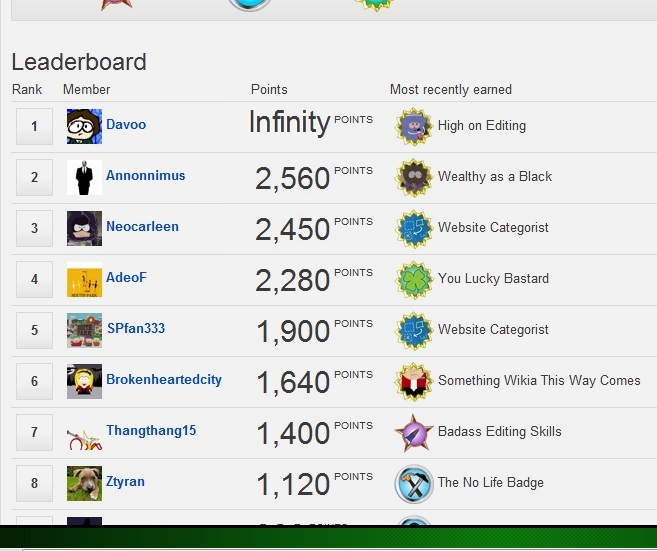 Community content is available under
CC-BY-SA
unless otherwise noted.