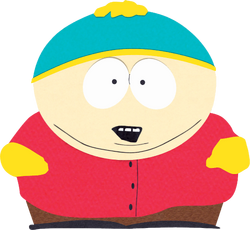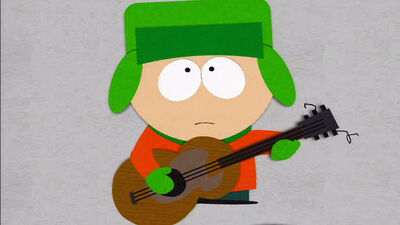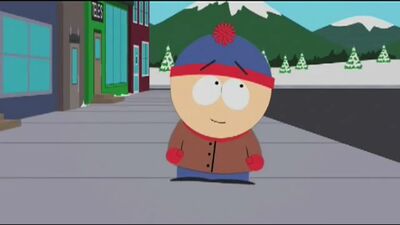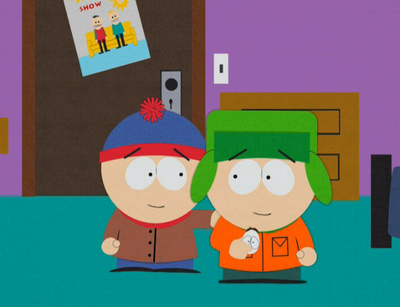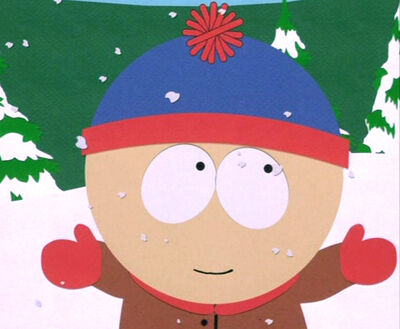 About Me
1. I've been a [South Park]] fan since 2006
2. [Kyle Broflovski]] is my favorite character.
3. [Shelly Marsh]] is my least favorite character.
4. [Season 1]] is my favorite season.
5. [Season 6]] is my least favorite season.
6. [Weight Gain 4000]] is my favorite episode.
7. [Kenny Dies]] is my least favorite episode.
8. [Jacking It In San Diego]] is my favorite South Park song.
9. [Kyle's House]] is my favorite South Park location.
10. [Barbara Streisand's Mountain Condo]] is my least favorite South Park Location
11. My favorite of [Kenny's deaths]] is his death in [Roger Ebert Should Lay Off the Fatty Foods]]
12. My favorite quote is "I've learned something today" [Kyle Broflovski]]
My Favorite Episodes
Weight Gain 4000
Smug Alert!
Prehistoric Ice Man
Summer Sucks
City on the Edge of Forever
Casa Bonita
Tom's Rhinoplasty
Big Gay Al's Big Gay Boat Ride
Volcano
Cartman Gets an Anal Probe
Chickenlover
Chef's Chocolate Salty Balls
Chickenpox
Merry Christmas Charlie Manson!
Rainforest Shmainforest
Sexual Harassment Panda
Cat Orgy
Two Guys Naked in a Hot Tub
Jewbilee
Korn's Groovy Pirate Ghost Mystery
Mr. Hankey's Christmas Classics
Cartman Joins NAMBLA
Cherokee Hair Tampons
Something You Can Do with Your Finger
Do the Handicapped Go to Hell?
Fourth Grade
Helen Keller! The Musical
A Very Crappy Christmas
It Hits the Fan
Cripple Fight
Super Best Friends
Cartmanland
Towelie
Osama bin Laden Has Farty Pants
How to Eat with Your Butt
Jared Has Aides
Asspen
The New Terrance and Phillip Movie Trailer
Professor Chaos
The Simpsons Already Did It
Free Hat
Child Abduction is Not Funny
A Ladder to Heaven
The Return of the Fellowship of the Ring to the Two Towers
The Death Camp of Tolerance
The Biggest Douche in the Universe
My Future Self n' Me
Red Sleigh Down
Cancelled
Krazy Kripples
Toilet Paper
I'm a Little Bit Country
Red Man's Greed
Christian Rock Hard
All About Mormons
Raisins
It's Christmas in Canada
The Passion of the Jew
You Got F'd in the A
Goobacks
Douche and Turd
Something Wall-Mart This Way Comes
Mr. Garrison's Fancy New Vagina
Best Friends Forever
The Losing Edge
The Death of Eric Cartman
Erection Day
Follow That Egg!
Ginger Kids
Trapped in the Closet
Free Willzyx
Bloody Mary
The Return of Chef
A Million Little Fibers
Tsst
Make Love, Not Warcraft
Go God Go
Go God Go XII
Stanley's Cup
Fantastic Easter Special
D-Yikes!
Night of the Living Homeless
More Crap
The List
Canada on Strike
Eek, A Penis!
Over Logging
Super Fun Time
The China Probrem
Breast Cancer Show Ever
About Last Night...
Elementary School Musical
The Ring
Eat, Pray, Queef
Fishsticks
Pee
Medicinal Fried Chicken
You Have 0 Friends
Crippled Summer
Poor and Stupid
It's a Jersey Thing
Funnybot
T.M.I.
Ass Burgers
Bass to Mouth
Broadway Bro Down
The Poor Kid
Butterballs
Sarcastaball
Insecurity
A Nightmare on Face Time
Going Native
A Scause For Applause
Obama Wins!
Informative Murder Porn
Let Go, Let Gov
Black Friday
Titties and Dragons
The Hobbit
Go Fund Yourself
Gluten Free Ebola
Handicar
Cock Magic
REHASH
HappyHolograms
My Favorite Characters
Kyle Broflovski
Stan Marsh
Kenny McCormick
Eric Cartman
Jimmy Valmer
Wendy Testaburger
Red, Rebecca, Bertha
Butters Stotch
Mr Garrison
Mr Mackey
Mr Hat
Chef
Timmy Burch
Bebe Stevens
Randy Marsh
Gerald Broflovski
Community content is available under
CC-BY-SA
unless otherwise noted.