This page contains trivia for "
The Jeffersons
". Remember, trivia must be factual, provable, and it is always best to cite your source for not-so-obvious trivia. If you would like to dispute a trivia point, please discuss it in the article comments.
When the boys go into Mr. Jeffersons house a claw grab machine can be seen with a Clyde Frog stuffed animal as one of the prizes. Cartman is then shown playing the game but does not go for the Clyde Frog doll. This supports the integrity of the shows timeline since Clyde Frog had already been shown to be owned by him in previous episodes.
Mr. Jefferson refers to Cartman by his last name rather than calling him Eric as most adult characters do.
In this episode, the cops feel the need to frame and arrest rich black people (simply because of jealousy, according to Gerald Broflovski), but ironically enough, they never arrested Token Black's family.
I.T. is a reference to E.T.
If you look closely in the hallway when Mr. Jefferson is chasing the boys, you can see a Mr. Hankey fountain.
There are several toys inside Blanket's room that are references to "Free Hat," including the Ark of the Covenant, a toy imperial walker, and a stuffed ewok. An alien toy similar to the Tiny Alien is also seen in the room.
When Stan and Kyle are trying to sneak Blanket out from the bathroom window, they express their fear of being caught by Mr. Jefferson. Unbeknownst to them, Mr. Jefferson was already standing there, as a lock of his hair and a part of his left shoulder is seen on the right edge of the screen.
Despite his family being invited for dinner, Butters wasn't there with his parents.
This episode is one of the few to feature Kenny's unmuffled voice (though most of his face is covered by a mask), when he is taking Blanket's place.
Mr. Jefferson is said to be 50 years old. Michael Jackson was in fact 45 years old when this episode aired. Coincidentally, Jackson died at age 50.
This episode is the first and only time Kenny died in the season.
Although Kenny doesn't speak while wearing his parka, he speaks while disguised as Blanket.
References to Popular Culture
Edit
Continuity
Edit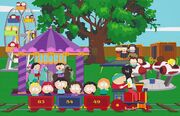 Unlike his appearance in reality, Blanket isn't white.
There are two Clydes riding the rocket ride.
When the kids are on the rides in Mr. Jefferson's backyard, there are two Kevin Stoleys in the same frame.
While posing as Blanket, Kenny is killed when Mr. Jefferson begins to toss him in the air playfully, mistaking him for his son. However, Mr. Jefferson throws Kenny too high by accident and he is killed when his head crashes through the ceiling, making Stan and Kyle cry out their catch-phrase for Kenny's death. This is the second episode in which Kenny dies unhooded, the first being "Super Best Friends" and third being "Pee."
Community content is available under
CC-BY-SA
unless otherwise noted.