The Burger King Bandits appear in the Season Twelve episode, "Super Fun Time". They hid from the police at Pioneer Village after robbing a Burger King. They took a majority of the South Park Elementary fourth grade class hostage. Ultimately, they could not escape, due to the Pioneer Village employees refusing to break character.
Members
Franz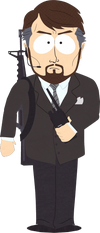 Franz was the ringleader of the Burger King Bandits in "Super Fun Time". Whilst escaping from the police, Franz and his gang took refuge in Pioneer Village, taking Mr. Garrison's class and the employees hostage and killing the actor-sheriff. He is taken alive when the police arrest him.
Vosky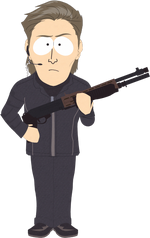 When the group seized control of Pioneer Village, Franz told Vosky and Domino to search for anyone who was hiding. Cartman was used by Butters as a weapon to escape from him. It is unknown if he was taken alive by the police.
Domino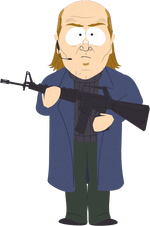 During the shootout between the gang and the police, he hid in the Pioneer Village saloon and shot at the police and the hostages. When he stuck his head out the window, however, the police returned fire and killed him.
Orlich

He was the gang's computer expert. He didn't trust Franz with the loot as he presumed he would flee with it and would never see him again and so demanded his cut early, which was only what seemed to be a measly Burger King kid's meal and three dollar bills. When the police stormed Pioneer Village, Orlich was the first of the thieves to get shot and killed in the ensuing firefight.
Female Thief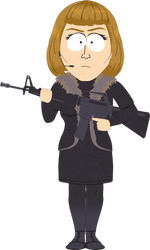 She was the only female member of the group. She was shot and killed by the police when they retook Pioneer Village.
Injured Thief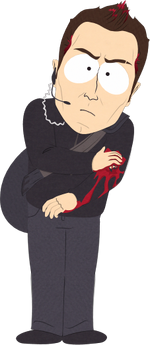 He was the only injured member of the group. The injury in his left arm is likely from being shot while escaping after the robbery. In the end, he was put into an ambulance and is the only other member to be seen taken alive.
Thief with Brown Hair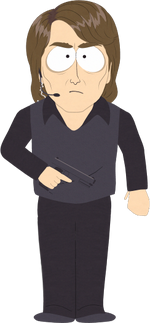 He is another member of the group. He helps Orlich close the gate and assists in suppressing and keeping watch over their hostages. Like Vosky, his fate is unknown.