Texas Prison appeared in the Season Two episode, "Summer Sucks".
Background
In the episode, fireworks are banned in Colorado which is a huge bummer for the 4th of July Celebrations. Jimbo and Ned decide to smuggle in some fireworks from Mexico. When crossing back into the American border, the border patrol officer asks them, "Do you have any firearms or explosives in the vehicle?" Jimbo forgets to reply "no". Both he and Ned are arrested for attempting to smuggle fireworks into the United States.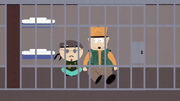 While imprisoned there, South Park's out-of-control giant snake spreads to Texas and breaks through the prison wall, freeing them.