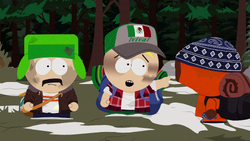 Texans vs. Mexicans is a game played by the boys in the Season Fifteen episode, "The Last of the Meheecans". The game involves two teams; the border patrol, to protect the United States border and the Mexicans, to penetrate the border. Upon successful penetration of the border a player on the Mexican team is to yell out "Base!". In order to win, all Mexican players must cross the border.
This game was played only once and it ended up involving the actual United States/Mexico border. In the end, the Mexican team won, with Butters breaching the real United States border from Mexico.
Teams
Community content is available under
CC-BY-SA
unless otherwise noted.