The Teenager Boy with Brown Hair and Blue Shirt is an unnamed character who appears during the early seasons, usually as a background character. Like most other teens in South Park, he has not made a recent appearance. He made his first appearance in the Season Two episode "Clubhouses".
Background
In "Clubhouses" he started a mess with the other teenagers in the clubhouses, accidentally killing Kenny.
In "Scott Tenorman Must Die" he delivered a box full of pubes to Cartman that was sent from Scott Tenorman. He is later seen watching the playback of Cartman's humiliating video, returning to his original clothings.
His last speech appearance was in "Best Friends Forever" where he threatens Cartman to go to the end of the line.
Appearance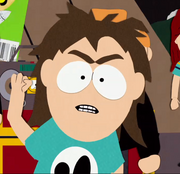 He is a punk with long, messy dark brown hair and brown eyebrows. He wears a light blue shirt with a skull, gray pants and black shoes. In "Scott Tenorman Must Die" he wears a simple black shirt and blue pants.
Prominence