Her name should be moved back to Shelly. On southparkstudios her name is written using both variants in different places, but the character guide uses Shelly and that's what we should use. --Anon (Talk) 17:47, March 21, 2010 (UTC)
Idiot-comment by Jtsfan13
???
have Trey and Matt ever thought of making an episode where Shelly gets her headgear off, and starts being nice to Stan And i think ill put this plot in a fanfic, once im allowed back in the south park fan wiki, and if you're on here toadstool, im sorry for ruing your fanfics
I've even got a picture of her without the braces
@ Jtsfan13
I accept your apology but why would you do that? Toadstool 02:56, July 5, 2010 (UTC)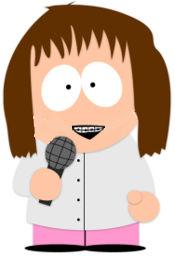 I guess im might just have anger issues and sometimes blinded by uncontrollable rage
Would i make it even if i deleted my fanfics, too?
would that make us even?-Jtsfan13
No. It's fine. 72.145.174.63 03:31, July 6, 2010 (UTC)
Community content is available under
CC-BY-SA
unless otherwise noted.