This page contains trivia for "
Summer Sucks
". Remember, trivia must be factual, provable, and it is always best to cite your source for not-so-obvious trivia. If you would like to dispute a trivia point, please discuss it in the article comments.
Trivia
This is the only episode to date in which the snow has melted in South Park.
This episode introduces Mr. Twig and marks the departure of Mr. Hat until a few episodes later in Chef Aid.
This episode reveals that Pip's parents are dead. This idea is later reused in Pip, when Pip visits his parents' graves at the beginning.
When the boys call Chef for help, he hangs up the phone and continues singing. Even though the phone is hung up, the boys can hear him singing on the other end.
The huge snake is supposed to be carried in by 3 Comanche helicopters but in reality it is brought in by helicopters that look more like a UH-60 variant.
At the beginning there is a picture that says "Jon missing". He is found later in snow but his parents mistake him as Kevin.
References to Popular Culture
This episode is centered around the 4th of July, which of course is Independence Day, the annual American celebration of independence from British rule.
When the snow begins to melt around South Park, the music playing in the background is similar to that commonly played in animated specials featuring the Peanuts
The boys are disappointed to find that firecrackers are illegal in Colorado. This has been a Colorado state law since 1991.
The only firework that can be sold in South Park is apparently the Black snake type firework. After lighting the small tablet, the firework starts smoking and an ash resembling a snake is created via intumescent reaction.
Officer Barbrady is trying to find the "little man in the boat". This is a slang sexual term meaning finding the clitoris of the vagina. The term comes from the fact that the vagina resembles an areal view of a man sitting in a boat (all be it a crude interpretation naturally.)
The Dyno Might Firework company would use Comanche helicopters to light the gigantic snake. The Comanche helicopter was commissioned by the US military and designed by Boeing and Sikorsky. Beginning in 1988, however the program was scrapped in 2004 before any were actually used by the military.
The mayor hopes that the children will sing Stars and Stripes Forever the patriotic American marching song composed by John Philip Sousa in 1869.
The children apparently play a good rendition of Mary Had a Little Lamb a folk song that originated from by Sarah Josepha Hale written May 24, 1830. It is based on a true story (no joke).
The mayor confuses Uncle Sam with Uncle Remus. Uncle Sam is of course the iconic "embodiment" of America, used as an icon for the US government support in conflicts. He was first conceptualized during the War of 1812. Uncle Remus however is a fictional character created by pro-slavery journalist/writer Joel Chandler Harris in 1881. Uncle Remus was a happy black slave who told stories and sang songs that were commonly shared among African-American slaves prior to the abolition of slavery in America.
Kyle sings "Dusty the Dirtball" a parody of Frosty the Snowman a popular song written by Walter "Jack" Rollins and Steve Nelson, and first recorded by Gene Autry and the Cass County Boys in 1950.
Mrs. Cartman believes that if Cartman practices swimming hard enough he'll be in the Olympics some day.
The conductor has the children try to play Mozart's Symphony No. 5. It doesn't go too well.
The Mexican firework stand owner is wearing a Menudo t-shirt. Menudo was a Puerto Rican boy band that was popular in the 1970s. Oh, and it's also a soup.
Jimbo compares himself and Ned to Santa Claus for getting fireworks to American children.
Mr. Garrison turns on the TV to find that Sheri Lewis and Lamb Chop are on TV. Sheri Lewis is best known for her ventriloquist act with Lamb Chop, she had her own popular PBS children's show Lamb Chop's Play-Along it aired from 1992-1997. Sheri Lewis died in 1998.
Cartman confuses the Dog paddle with Doggy style. The Dog Paddle is a form of swimming that is in imitation of a dog or other four legged animal. Doggy style refers to a sexual position where intercourse occurs with one partner on their hands and knees presenting much like a female animal (i.e. a dog) for their mate.
As the giant snake goes out of control, the children play Nearer, My God, to Thee a 19th century Christian hymn by Sarah Flower Adams, based loosely on Genesis 28:11–19. It's known for being the song played by the band aboard the Titanic as it sank.
Mr. Garrison has gone to New York to get help from Dr. Katz. Dr. Katz, Professional Therapist was another animated television series that aired on Comedy Central from 1995-2002. Coincidentally, a few months later, MAD Magazine would run a dual parody in which Katz, accompanied by son Ben and Ben's girlfriend Laura, sets up shop in South Park. However only a few days of listening to such head cases as Cartman and Mr. Garrison (while Ben catches Laura in bed with Chef), leave him suddenly nostalgic for the New York practice he left behind, and after a broken pencil starts a chain reaction which results in Kenny's decapitation (though Laura claims to have already killed him twice that morning), he calls his previous clients begging them to take him back.
Mr. Hat apparently would fantasize about NFL quarterback Brett Favre.
After the snake is destroyed and South Park is covered with black ash, everyone's faces are dirtied by black ash and they resemble characters out of a Minstrel show.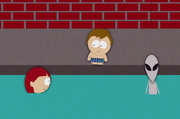 Hidden Visitor(s)
A visitor is seen swimming in the pool.
Kenny's Death
While the snake grows bigger it attacks the orchestra. Everyone jumps off the stage except for Kenny. It's too late for Kenny to get off so he is thrown off the stage by the snake and lands next to the bleachers where the snake knocks the bleachers over and crushes him, followed by an "Oh my God, they killed Kenny!" by Stan, and then a "You Bastards!" by Kyle , as usual. Another death happens, as well. There was a flashback of the boys younger, playing with firecrackers. Kenny held onto his too long, and his head blew off, resulting in rats eating the corpse, as well as the famous phrase. Stan exclaims, "Oh, that's killed Kenny!" followed by Kyle's "'Oo bastards!"