The Stoley Residence is the Stoley family's house. It first appeared in the Season Thirteen episode "Fatbeard".
Appearance
Exterior
The Stoley Residence is built the same as most of the other houses in South Park. It is colored blue (a lighter shade compared to the Daniels Residence) and has a detached garage.
Interior
The upper floor has 2 rooms (Kevin's room and his parents' bedroom) and a large bathroom. Kevin's room is decorated with Star Trek posters and toys.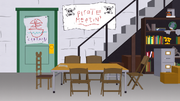 The Stoley Residence has a basement which was previously used by the Pirate Club as their meeting point.
Residents
Prominence
Kevin's room serves as the starting point for the Vulcan Around side quest. A health potion, a pair of underwear (for Phase One side quest) and a Klingon Beard can also be looted in the room.
A strength potion and a cure potion can be looted in the kitchen.
‎