Stanley Marsh, voiced by Trey Parker, is one of the four main characters of South Park, if is often considered the leader of the four.
Appearance
Stan Marsh is nine years old, and wears a brown coat, blue pants and red gloves. He wears a dark blue hat with a red trim and pom-pom on the top of it. Stan has short, black hair, which is usually messy because of his hat which he wears almost all the time, and blue eyes.
Personality and Role
Stan Marsh is one of the four main characters of South Park, and is considered the leader of the group. Like most characters, his personality was different in the first seasons then it is today. At the beginning, Stan was just as ignorant as Cartman is. All of the boys were. He constantly had a lack of knowledge and understanding to certain subjects. An example is when he thought he was late for puberty because he hadn't had his period yet. Stan has now become critical of people who are ignorant, often becoming frustrated by them. He has become more mature as the show progressed, and much more aware of things.
Stan is soft hearted, a trait his friend Eric Cartman enjoys to make fun of calling him a "pussy". Stan is able to take verbal and physical abuse, but emotions situations appear to be his weak point. Stan is athletic, and is usually depicted as the star of his school's teams, like the football team, The South Park Cows and the little league team, where he is pitcher. Unlike his friends Cartman and Kyle, Stan is not as musically talented, though was able to write a song with questionable lyrics. Stan is able to play the violin with a small degree of talent, yet is much better at playing the guitar.
History
Stan Marsh was born in 1990 to Randy and Sharon Marsh. He lives at 2001 Bonanza Street, South Park Co. 80439". He attends South Park elementary, and is currently in fourth grade. Stan has always grown up around weird and unusual people and situation, which always affect him in some way. Their troubles can be dated back to when they were in Pre School, when they set a fire in their classroom, trying to play fire man, but weren't able to put it out. Their teacher was set on fire, and then blamed it on another kid, Trent Boyett who was sent to juvenile hall. They grew up, facing all sorts of difficult situations. His parents broke up briefly, but Stan was able to lure them both into his tree house, where they were reunited. Stan was able to get a Girl Friend in Third Grade, Wendy Testaburger. This relationship lasted for seven series, then Wendy broke up with him, leaving him distraught. In temporary despair, Stan turned goth, and dumped his friends to hang out with the Goth kids. He was brought out of this phase in his life by Butters, and learned to accept Wendy dumping him. Despite this, Stan has started to show recent feelings towards her once again, yet when ever something comes close to happening he walks away or insults her.
Stan's best friend is Kyle Broflovski, and the two are always usually on the same side of an argument, only for a few exceptions. Stan has only fought with Kyle when naming a frozen man from the 1970's, and snapped at Kyle after getting extremley jealous when Kyle was partnered with Wendy for a school project.
Family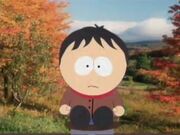 Stan Marsh is the son of Randy and Sharon Marsh. He has an older sister named Shelly, who regularly beats him up, and an extremley elderly grandpa, Marivn, who once tried to get Stan to kill him. Jimbo Kern is his uncle, who is the brother of Sharon marsh. Stan once had a great aunt, aunt Flo, but she was killed by his demonic fish in the episode Spooky Vision. Also that his family's hair color are black except for Shelly Marsh and Sharon Marsh. In the episode, How to Eat Your Butt, it was the first time Stan was seen uncapped, only in the beginning of the episode.
Quotes
"Oh my god! They killed Kenny!"
"No, your not the Candy Master, your the Ass master. Theres a difference."
"No, dude. You're a douche."
"Aah, we're always running late you ugly skank. "
"I don't want to shoot the bunny."
"Haha Cartman ... You're a fatass AND your Mom's a He-She."
"No, Jay Leno's chin is big-boned. You are a big, fat ass."
"One day you're gonna have to stop running and deal with what happened. Otherwise, you might as well just move to France with all the other pussies."
"Bible, Star Trek, whats the difference?"
"That's impossible. Cartman doesn't know a rainforest from a Pot-Tart."
"We can't get off. The dumb bitch won't let us"
"Kyle! Jesus is going to kill you because your Jewish!"
"Oh my God! Jay Leno's chin killed Kenny!"
"I've had enough of your dickitry!"
"You mean there's actually people who dedicate their life to sticking their hands up somebody's ass?"
"Guys, we have no choice. We're gonna have to move away. Environmental activists don't use logic or reason."