South Park: The Complete First Season is a 2001 DVD release of Season One, including all thirteen episodes from the season, in addition to trailers, TV spots, the "A South Park Thanksgiving" short featured on The Tonight Show With Jay Leno, the "O Holy Night" music video, the "O Little Town of Bethlehem" music video, and Trey Parker and Matt Stone present at the 1997 CableACE Awards. It was also originally to feature audio commentaries, but they were not included in the final set.
Cover
This front cover's primary color is dark-grey and black. It depicts Kyle, Kenny, Cartman and Stan looking at the camera smiling. This is the only cover to not have any objects, theme or reference to any episode from the show. The inside cover shows the three boys looking down concerned, with Kenny now on the ground, dying and looking at his missing lower half.
The back cover shows the boys in their normal outfits laughing, except for Kyle, who is mooning the viewer.
Episodes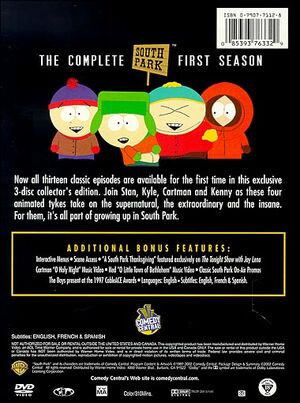 Audio Commentaries
Originally, the disc was to include full episode audio commentaries, but for unknown reasons Paramount removed them from the disc. Trey Parker and Matt Stone were angry with the decision and worked out a deal to release the commentaries on a CD available directly at the Comedy Central website.
Unlike the later commentaries, these full commentaries ran for the entire episode's length. Unfortunately, The Complete Second Season set does not include audio commentaries - it wasn't until the release of South Park: The Complete Third Season that the DVDs were released with commentaries, and these were compressed in small mini-commentaries.
However, the discs do include the same brief video introductions included on the Rhino Home Video discs, though these are brief live-action segments, dressed as cowboys and addressing the viewer as a "South Parkateer", generally declaring their love for the following episode and explaining why they love it, often including a joke, usually singing off with their friend 'Indian Companion' telling them "Someone coming." However these are humorous in nature and rarely discuss actual production facts.