Scott Malkinson is a character introduced in the South Park episode "Elementary School Musical". He has a lisp and Diabetes, and Cartman rips on him for this. He is introduced as a replacement character for Kyle, Cartman, and Kenny when Stan begins to do musicals to prevent himself from losing Wendy. He also appears in the episode "Butters' Bottom Bitch", as a customer of Butters "kissing company" and he passes at the background during Cartman's book selling in the episode "Dances with Smurfs".
Appearance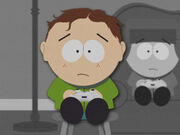 Scott wears a light green jacket with a fairly dark green collar and has teal trousers. He also has freckles and ruffled brown hair with a parting in the middle. His voice sounds similar to Butters' so he is most likely voiced by Matt Stone. This may be obvious to some fans because that Trey Parker voices most of the popular kids as Matt Stone voices most of the least popular. He has a really obvious lisp, leading to Cartman ripping on him.
Community content is available under
CC-BY-SA
unless otherwise noted.