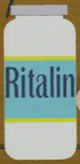 Ritalin is a medication used to treat the symptoms of Attention Deficit Disorder. It was a main focus of the Season Four episode, "Timmy 2000".
Background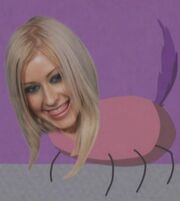 In "Timmy 2000", most of the school kids are misdiagnosed with Attention Deficit Disorder and are prescribed Ritalin. One of side effects of Ritalin was hallucinations when taking higher doses. Eric Cartman saw, on multiple occasions, pink Christina Aguilera creatures.
As more and more kids are prescribed and begin taking Ritalin, they become less reactionary to stimuli and are seen in zombie-like trances. Parents, and other adults, soon after begin taking doses of their children's prescriptions.
After seeing the harmful, and dulling, effects of the drug, Chef and various doctors administered a fictional antidote called, Ritalout, to attendees of a Phil Collins concert.
Ritalin has not yet reappeared on South Park, but appears in South Park: The Stick of Truth as a junk item.
Prominence
"Timmy 2000" - Seen being administered to the children after being misdiagnosed with Attention Deficit Disorder.
Community content is available under
CC-BY-SA
unless otherwise noted.