For other uses, see Rebecca (disambiguation).
Rebecca is Towelie's girlfriend and Washcloth's mother. She appears in the Season "Crippled Summer".
Background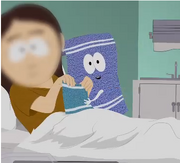 She and Towelie have a son named "Washcloth". She and Towelie apparently never married, however in the episode "Crippled Summer", it says that she was his ex-wife, not his ex-girlfriend. Unfortunately, they did not remain together long due to Towelie's relapsing drug addiction and she kicked him out believing he would be a bad influence on their son. Because of this, she would not let him talk to their son when he was high. After Towelie goes to rehab and is clean, he moves back in with Rebecca and their son.
Even though she was mentioned many times, she only appeared in one picture, giving birth to Washcloth. Her face is censored due to it being on the intervention and wanted to keep her anonymous.