For other uses, see Raisins (disambiguation).
Raisins was a restaurant that first appeared in the episode "Raisins". It shut down due to the COVID-19 pandemic as seen in "The Pandemic Special". It is a parody of the real-life establishment Hooters.
Appearance
Exterior
The restaurant is an oblong shape with a sloped grey roof. It has an illuminated sign on the roof which says 'Raisins'. There are also tables outside - as well as a lot of posters - and the whole thing is surrounded by a wooden fence. In "South ParQ Vaccination Special", the building looks dilapidated and "Space for Lease" signs hangs up.
Interior
Inside, Raisins has a wooden paneled wall which has various posters, signs, and photographs of the employees posing with customers.
Employees
Main article: Raisins Girls
Raisins employs preteen girls who seem to be about the same age as the boys. The employees are usually seen wearing black mascara and red lipstick, although several others also wear eyeshadow, black eyeliner, and hot pink blush. All employees seem to be named after luxury cars.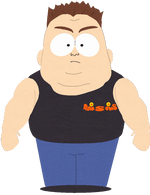 Main article: Maury
Maury acts as a bouncer for the Raisins girls, protecting them from "danger" as well as enforcing Raisin's rules. In "Raisins", he escorted Lexus to her bike when Butters attempted to give her a gift. In "You Got F'd in the A", he tells Stan and his dance crew that they have to buy wings if they want to speak to the Raisins girls.
Uniforms
The Raisins Girls wear orange shorts and a T-shirt with the word 'Raisins' on it (the dots on the i's are flower heads and the letters are spaced so the dots fall where their nipples are). In "Quest for Ratings", the Raisins girls were shown in new, skimpier uniforms. However, in "Butterballs", they have seemingly reverted to their old, original uniforms.
Prominence
The Raisins girls appear in South Park: The Fractured But Whole as enemies, and the restaurant itself is a visitable shop.
Trivia
Raisins is a parody of Hooters. 'Hooters' is slang for breasts, while 'Raisins' is slang for nipples, indicating the undeveloped breasts of the Raisins girls.
Some pictures of the New York kids from the "World Wide Recorder Concert " episode can be seen inside the restaurant and a New York girl who appears at the beginning of the episode can be seen as a Raisins Girl in a poster outside the restaurant.