Paris Hilton is a celebrity who appears in the Season Eight episode, "Stupid Spoiled Whore Video Playset".
Background
After opening her latest store at the South Park Mall, "Stupid Spoiled Whore", Paris prepares to make weekend plans involving sex and drinking but is cut off after her dog Tinkerbell commits suicide. Horrified she screams that "another dog killed itself!" while her limo driver half-heartedly attempts to calm her down, promising her another dog. However, she is easily distracted from her mourning, upon catching sight of Butters Stotch playing with some apples. Thinking him to be more of a pet than a person, she claims that she wants "it". Butters misunderstands her, thinking she wants to be his girlfriend, while the limo driver attempts to tell Paris that Butters is a child, not property. Paris begins to throw a tantrum, screaming "I want it! I want it!" and the driver relents, ordering Butters to get into the car, while Paris happily declares to have a bear costume made for him and dubbing him "Mr. Biggles".
They go back to the Stotch Residence, where Paris offers to purchase Butters from them. Linda Stotch is less pleased with the idea, first grounding Butters for dating Paris, and also finding the idea of selling her son to the heiress unseemly. Stephen Stotch however feels the opposite, claiming that Paris will give him a better life and that they should think about their personal needs over their son's. While they discuss this, Butters takes Paris up to his room, where she passes out and where he begins poking her vagina. Stephen managed to convince Linda to sell Butters, which Butters pleads against. The deal is made, however, and Butters prepares to resign himself to his life with Paris. After seeing a photo album though of all her past pets having killed themselves, Butters runs away, where he ends up hiding at Bebe Stevens' "Stupid Spoiled Whore" sex party. Paris follows him there, where she hears Mr. Slave warning the girls of South Park against being like Paris Hilton, claiming she is thoughtless and talentless and that being a whore is not fun but something bad (knowing from personal experience, having been a whore his whole life). Furious, Paris claims being a whore is the ideal life and proceeds to challenge Mr. Slave to a "Whore-Off" to see who's a bigger whore, claiming that Mr. Slave does not know what true "partying" is.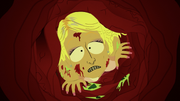 At the competition, Paris proceeds to make out with the Master of Ceremonies, dance with large scantily clad muscle men, and to top it all off, stuff a pineapple up her vagina. Everyone believes her to be the winner, as Mr. Slave just sits there watching her in mild boredom. However, he wins the competition, by stuffing Paris all the way up his own ass. The town explodes in celebration of Mr. Slave's victory, however, he silences them and informs them that what he and Paris do is a bad thing and that parents are supposed to teach their children that people like Paris and himself should be despised, not praised, and emulated. The town comes to realize that he's right. Meanwhile, inside Mr. Slave's rectum, Paris is greeted by the Frog King from "The Death Camp of Tolerance", who urges her to escape the gay man's ass or else she will die.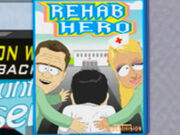 Paris managed to survive and escape Mr. Slave's anus, as she was again seen as a background character in the episode "Britney's New Look". She also made a slightly larger cameo appearance in "200", in which she joins with other Celebrities in a plot against the people of South Park, for all the times they have mocked or humiliated them. Paris claims to have suffered the worse mocking from the town for being a whore, at which point she coughs up more semen and wipes it on John Travolta's crotch. She appears again in the follow-up episode "201", where the celebrities kidnap Muhammad so as to steal his power of not being mocked.
Appearance
Like the real Paris Hilton, she is an unhealthy looking girl, dangerously underweight, with a large roman nose, overly tanned skin, and bleach blonde hair. Her purple eye shadowed eyes are uneven as one is more heavily lidded than the other, which may either be natural or the result of constantly being intoxicated. She also has large, overly painted pink lips. She also wears a bling necklace with her name. She has long pink nails and blue stud earrings. She wears a short, transparent pink crop top and under that is a white bra (or bikini). She also wears a short blue denim skirt and a green thong. On her feet, she wears fuchsia ankle-high boots. She constantly throws up globs of semen. She is the South Park stereotype of a whore: skimpy clothes and a desire to have sex with males.
Trivia
Unlike the rest of the characters in the series, Paris Hilton appears to be the only character who walks normally.
As a running gag throughout the episode, Paris Hilton coughs up globs of semen onto her hand (confirmed by Trey Parker in the DVD commentary) as well as throwing up feces at the beginning of the episode. The commentary also states that this episode voiced the creators' contempt for Paris Hilton's whorish behavior, claiming that her promoters were "not only telling little girls to laugh at her, but to be her." Furthermore, they asserted Hilton was ugly by calling her "a total dog."
Paris Hilton reacted to the episode by saying, "I haven't seen it, but when people copy you, that's like the most flattering thing, so whatever people can say, I just laugh about it. It doesn't matter to me." Matt Stone responded to this in an interview by saying, "That shows just how fucked up she is. That's terrible that she's flattered by it."
Paris Hilton was originally going to appear in South Park: The Stick of Truth as a boss, along with the stupid Spoiled whores. However, she was written out of the game because the level she was intended to appear in was changed completely. She would have had a unique attack called the 'vag blast', presumably promising nudity.[4]
Prominence
References