Nut Gobbler is a prostitute who appears in the Season Nine episode, "Erection Day".
Background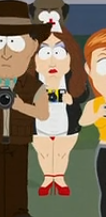 In "Erection Day", she is hired by Jimmy, who thought having intercourse with her would prevent his erections long enough for him to perform in the school talent show without embarrassing himself. She has a pimp named Q-Money who, upon seeing Nut Gobbler at a fancy restaurant with Jimmy, tries to kill her under the belief that she was looking for another pimp. Jimmy ends up saving Nut Gobbler with his comedy, and he has sex with her.
In "Britney's New Look", Nut Gobbler is seen among the crowd of people taking pictures of Britney Spears, in order to kill her.
Appearance
Nut Gobbler appears to be in her 30's. She wears a nurse's outfit, a nurse's cap, a black leather jacket, red high heels and a red thong. She wears purple eyeshadow and red lipstick. She is overweight with large front teeth. Nut Gobbler is a brunette and often has a scowl on her face, though this could be because of her teeth.
She has a thick New England accent and apparently has a medical condition that causes her to bleed out of her urethra.
Prominence
References