Nichole Daniels is a female fourth grader at South Park Elementary. She made her first appearance in the Season Sixteen episode, "Cartman Finds Love". Starting with Season Seventeen, she has made numerous appearances since.
Background
Nichole is the new girl at South Park Elementary, much to the happiness of the male students, especially Eric Cartman. Seeing this as an opportunity for Token Black to have a girlfriend, Cartman begins a plan to have the two brought together.
Nichole, initially showing interest in Kyle Broflovski, eventually started to like Token, after being locked in the boy's locker room with him for several hours. With aid from Cartman, Nichole and Token formed a strong relationship, until she read the engraving Cartman had put on the tag of one of the stuffed bears from Token. Unbeknownst to Token, the engraving read, "'Cuz Blacks Belong Together", which caused Nichole to break up with him, believing they were not on the "same page".
Realizing that Nichole was now "available", Kyle begins a relationship with her, taking her to a basketball game featuring the Denver Nuggets against the L.A. Clippers. At the game, Cartman sings "I Swear" to Kyle, much to his embarrassment. This causes Kyle to reveal to Nichole that Cartman was the one that set up her and Token. After hearing this, Nichole runs into Token at the game, they reconcile their relationship, and decide to get back together.
Appearance
Nichole wears black shoes, magenta pants, a white shirt, and a yellow jacket. She has black hair, styled into two buns, and wears two yellow barrettes with pink flowers on them. Sometimes, when she is outside, she wears a pair of pink mittens. According to Wendy, she has minor periorbital puffiness in her eyes.
Nichole is on the cheerleading squad; she wears the typical South Park Cows cheerleading attire, which consists of a black and white dress with the word "cows" embroidered in the front. While cheerleading, she also wears yellow and pink barrettes, although occasionally she wears two ribbons instead.
To see images of Nichole Daniels, visit Nichole Daniels/Gallery.
Personality
Nichole is shown to be amiable and sympathetic. She understands Cartman's claims that he and Kyle were in a relationship in "Cartman Finds Love", and despite having a crush on the latter, offers them support. She has also shown to be discreet, being careful in her words and actions not to offend anyone. This is shown when Cartman, posing as a homosexual, asks her not to touch him in the same episode, believing that sexuality influences platonic interactions.
She is also determined, following through with the girls plan to break up with their boyfriends in "Skank Hunt", to get back at them for Skankhunt42's wrongdoings. She helps Annie convince Wendy to do the same, further stating that without all the girls committing, their plan is meaningless.
She may be among the most well behaved children of South Park, as she has yet to swear, lie, cheat, break a law, or any other form of bad behavior, willingly, so far in the series.
She is romantic. She has had romantic interests for, and has been the love interest for, many of the boys in the school, before and after photoshopping herself in "The Hobbit".
She has also demonstrated a level of insecurity in her skin color. While PhotoShopping herself in "The Hobbit", she lightened her skin. She also has a poster of a blonde Caucasian fairy above her bed.
Relationships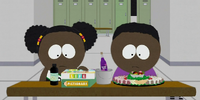 Nichole and Token began their relationship with each other after being locked inside of the boys locker room for hours. The two's relationship grew stronger, as they were both seen on several dates and visiting amusement parks together. Their relationship was later disrupted by a racist remark and, after learning that Cartman was behind it, Nichole and Token reconciled their relationship.
In Skank Hunt, Nichole breaks up with Token due to the actions of internet troll Skankhunt42; the girls believed that his actions spoke for all the boys.
Nichole reveals that she originally had interest in Kyle at Bebe Stevens' sleepover party. Cartman thwarted this by manipulating Nichole into believing that he and Kyle were in a homosexual relationship with each other. After Nichole ended her relationship with Token, Kyle took her to a basketball game.
Trivia
The alias her voice actress uses for her, Laylo Incognegro, is a play on words, referencing Nichole's ethnicity.
Nichole's brief relationship with Kyle Broflovski, who is based on co-creator Matt Stone, is an allusion to the relationship between him and his wife, Angela Howard, who, like Nichole, is also black.
Prominence
"Cartman Finds Love" - First appearance. She gets in a relationship with Token Black.
"Let Go, Let Gov" - Seen in the playground on the swings.
"World War Zimmerman" - Performs a cheer with the other cheerleaders at the school assembly and sits with Token.
"The Hobbit" - She visits the gym with all the other cheerleaders where they photoshopped themselves to make them look more attractive for the boys attention.
"Gluten Free Ebola"- Seen briefly at The Boys' party walking with Red.
"The Cissy" - Briefly seen in the school hallway.
"Where My Country Gone?"- Seen on the playground.
"You're Not Yelping"- Seen from behind walking in the hallway.
"Tweek x Craig" - Seen in the audience at a school assembly. She admires the Asian Girls yaoi art of Tweek and Craig.
"Naughty Ninjas" - Briefly (but not easily) seen sitting in the school gymnasium with the other students.
"Sponsored Content"- Seen in the hallway at South Park Elementary.
"Truth and Advertising"- Seen from behind sitting in the cafeteria.
"Member Berries"- Seen as a member of the volleyball team at the volleyball game, in the office with Heidi, Wendy, Megan, and PC Principal, and at the school assembly.
"Skank Hunt" - Conspires with her fellow female classmates to get back at the boys for Skankhunt42's wrong doings. She also breaks up with Token, much to his sadness.
"Wieners Out" - Along with Bebe Stevens, Annie Knitts, and Wendy Testaburger, complains to PC Principal about the boys' protest during their volleyball game.
"Douche and a Danish" - Seen in the battle between the girls and the boys.
"Oh, Jeez" - Seen at the school assembly.
"Put It Down" - Singing with the other students.
"Hummels & Heroin" - Rallies with Marcus Preston after witnessing his presentation in the school cafeteria.
"Sons A Witches" - Sits with Heidi at lunch.
"Doubling Down"
Although she didn't officially appear in the game, her appearance was planned. She can be seen in promotional artwork for the game. From the promotional artwork, it can be assumed that she would've played a relatively larger role as a cheerleader, along with Wendy, and Bebe, possibly in a battle against Red, and the stupid Spoiled whores. Her prominence in the game could've been further confirming her permanent role as a part of the series' cast. The reason for her exclusion from the game's final draft is unknown.
References