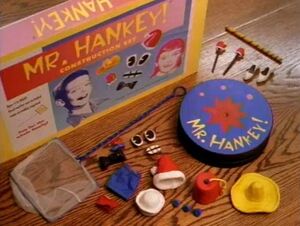 Mr. Hankey Construction Set is a toy in the fictional world of South Park. It appeared in the Season One episode, "Mr. Hankey, the Christmas Poo".
Filmed in a live action TV commercial spoof. It was based on cheap old-fashioned 1960's commercials in which two kids would be sitting at a table being bored, and 'mom' would come in and introduce some wonderful toy for the whole family. The commercial ends with the baby eating the poo.
The game consists of grabbing a piece of poop from the toilet and dressing it up similar to a Mr. Potato Head.
Mr. Hankey the Christmas Poo was a talking poo that, for a while, was thought to be a figment of Kyle's imagination.
Community content is available under
CC-BY-SA
unless otherwise noted.