For other uses, see Mike (Disambiguation).
Mike Cooper was one of the applicants for the job of morning announcer in the Season Thirteen episode, "Dances with Smurfs".
Background
In "Dances with Smurfs", Mike is one of the applicants to replace Gordon Stoltski as South Park Elementary's morning announcements reader. He tells Eric Cartman that the reason he is applying for the post is to raise his self-esteem. Unfortunately for him, he was not selected for the job.
He was later seen in "Butterballs" during Stan's anti-bullying video and in "Cock Magic" at the card duel between Kenny McCormick and his opponent named "Slaughterhouse".
Appearance
Mike wears a short-sleeved gray shirt under a darker gray vest, brown pants and black shoes. He has freckles under his eyes and has very short spiky brown hair.
Personality
He speaks with a severe stutter, not getting past the first word in the passage Mr. Mackey asks him to read. He has low self-esteem, most likely caused by his severe stutter.
Video Games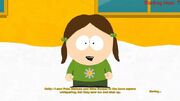 Mike is mentioned in the early version of Stick of Truth by Nelly, it appears in the video game that him and Pete Melman have some sort of friendship or bond and don't really like Nelly or are keeping something from her. This is also where Mike's last name, Cooper is revealed.
Prominence
Trivia
References