For other uses, see Michael (Disambiguation).
Michael is the most prominent member of the Goth Kids, often appearing in storylines without featuring the other three members. He first appears in the Season Seven episode, "Raisins".
Background
In "You Got F'd in the A", Michael helps Stan's dance team out to be the biggest non-conformist of all by not even conforming to goth standards. He also suggests bringing Yao and a girl (who ends up being Mercedes, a Raisins Girl) into the group.
Michael reappears in "The Ungroundable" being mistaken for a Vampire kid. The Goth Kids kidnap Mike Makowski (the head Vampire Kid) and suggest ramming a stake through his heart, but end up sending him to Scottsdale, Arizona instead.
Michael appears in "T.M.I." in the anger management class with several other people. He may have a small penis, as he goes to an anger management class with other people who have anger issues due to their penis size.
In "Goth Kids 3: Dawn of the Posers", Michael, Pete, and Firkle hear about Henrietta going to a disciplinary camp that turned her "emo". They go to the CPS agency in an attempt to report Henrietta's parents' child abuse but failed to report the innocence. Later in the episode, he tries to confront Henrietta, telling him that the emos will concur with the world as he could not stop them. After returning home, his parents ended up sending him to the same camp to help "make him normal". He tries escaping with help twice and eventually made Henrietta return to normal.
Criminal Record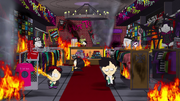 The Goth Kids have collectively and individually engaged in numerous criminal offenses.
Arson: In "The Ungroundable", Michael and the other Goth Kids set fire to Hot Topic, burning it to the ground.
Attempted Murder / Kidnapping: In "The Ungroundable", he, along with the other Goth Kids, kidnap Mike Makowski, the leader of the South Park Vampire Society, with the intent of murdering him. However, they change their minds after he admits he is not a vampire and ship him off to Scottsdale, Arizona instead.
Drug Abuse / Underage Smoking: Michael is frequently seen smoking cigarettes despite being underage as well as abusing cough syrup to hallucinate.
Hostage-Taking / Terrorism: In "T.M.I.", Michael participates in the Pissed Off and Angry Party's taking of hostages at the Fed-Ex offices.
Treason / Sedition: In the Superhero Arc, they are shown to be part of the Cthulhu cult and supporting the eponymous monster's reign of terror. They later leave the cult, though, expressing dissatisfaction with the outcome.
Talents
Music
Michael is the vocalist in the Goth Kids' band. Their only known song was "Talent Shows are for Fags", which was played ironically at the South Park Elementary Talent Show in the episode "Erection Day".
Dancing
In "You Got F'd in the A", Michael joins The South Park Diggities along with Stan, Mercedes, Yao, Jeffy and later Butters. The Diggities win the dance-off against the Orange County Crew, mainly due to Butters killing them accidentally.
Appearance
Michael walks with a brown stiff cane, with the fact he is an Edwardian Goth; however, sometimes he is seen walking without it, even once giving it to Stan in "Raisins" and tossing it aside while running in "Goth Kids 3: Dawn of the Posers". He is taller than the other kids and has curly black hair parted on the right. He has a large nose that is visible along with his ears, unlike most children in South Park and has black eyeliner under his eyes. He wears a long black jacket with a white dress shirt underneath, black pants, and tall black boots. He also has a gold cross earring hanging on his left ear.
When the vampire trend slowly grows, he dresses up as a conformist to not confuse others with them being vampires. He wears a brown uniform with a white stripe around, long gray pants, along with brown shoes.
In South Park: The Stick of Truth, he wears a Viking helmet, a brown fur scarf, and holds an ax on his current outfit.
In South Park: Post Covid, Michael appears as an adult man. He is the least visibly aged of the goth kids as he has no wrinkles. Although he still wears the same earrings and a black jacket, he now wears a striped navy shirt, dons glasses, and has a stubble.
In "Pajama Day", he is seen wearing a dark-grey, button-up nightgown, a sleeping cap, and black slippers. He also holds a black pillow with a skull and a candle.
Gallery
Family
Michael is possibly half-Asian and half-Caucasian, because in "Goth Kids 3: Dawn of the Posers", it is revealed that he has an Asian mother and Caucasian father. However, she could be his stepmother because in the episode "Raisins", he states out "Love didn't work out for my mom and dad, so why should it work out for me?", suggesting that his biological parents were divorced. However, it could be an angsty exaggeration, similar to how Henrietta claims that her mother "abuses" her.
Video Games
Michael appears with the rest of the Goth kids. The player can try and recruit him and the rest of the goth kids through the quest PTA Problems. The player is also able to friend him on Facebook.
Michael and the other Goth Kids can be found in Henrietta's Bedroom. The New Kid is required to complete a ritual in the room before they can take a selfie.
Prominence
Movies
References