The Mayor of Imaginationland is a representation of the Disney character called Dreamfinder from the Journey Into Imagination attraction in the Epcot Center Parks at Disney World. Given his title, he is the Mayor of Imaginationland.
Background
He sang the song of the attraction, called the Imagination Song, when he delivers Stan, Kyle, Kenny, Jimmy, and Butters to Imaginationland in his blimp. Butters fears he wants to rape them due to his overly happy personality and looks, something that the Mayor cautiously denies.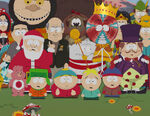 He dies in the terrorist attack on Imaginationland when the Xenomorph from the Alien film series tears out his organs.
In the end of "Imaginationland, Episode III", Butters revives the Mayor by re-imagining him, and consequentially, he also re-imagines Imaginationland after it was destroyed.
Appearance
The Mayor of Imaginationland wears yellow pants with red polkadots, a white collared shirt under a purple velvet vest, a red trenchcoat, and a red bow tie. He is overweight and has brown hair, rosy red cheeks, and a brown mustache. He also wears white gloves and a large purple top hat. He has a gold pocket watch with a gold chain held within his left vest pocket.
Prominence
References