Max Weinberg is the bandleader for Late Night with Conan O'Brien, as well as the drummer for Bruce Springsteen's E-Street Band.
Weinberg appears in the film South Park: Bigger, Longer & Uncut, when Terrance and Phillip appeared on Late Night. In the film, Terrance bursts into Max's bass drum causing him to become visibly upset.
Appearance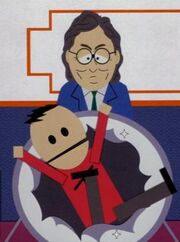 Max wears a blue suit coat over a white collared shirt and a green tie. He has wavy gray hair and no facial hair. He also wears round-framed eyeglasses.