Born on the 26th of May, 1971, Matt Richard Stone is one of the creators of the South Park, as well as the movie and other media. The Jewish character Kyle Broflovski is largely based on him. He and Trey Parker, the other co-creator, created South Park, which first aired back in 1997, and since then it has become highly successful, earning the creators a spot in the history books as visionaries of one of the most popular American animations that deals with real-life difficulties such as politics, stereotyping and racism. The show has also won an Emmy for its ingenuity and hilarious comedy.
Early Life
Matt Stone was born Houston, Texas, being the son of Gerald Whitney Stone and Sheila Lois Belasco, who would become the basis of Gerald Broflovski and Sheila Broflovski. His father Gerald was of Irish Catholic descent, while his mother Sheila was an Ashkenazi Jew. He spent his childhood in Littleton, Colorado, in the Denver area, and attended the Heritage High School. He obtained several degrees in animation and the film arts. On December 8, 2008, he married Angela Howard.
The Jewish character Kyle Broflovski is based on Matt Stone, and even has parents with the same names as Matt's genuine parents. Furthermore, when Stone allows his hair to grow out, he develops a jew-fro that looks similar to Kyle's.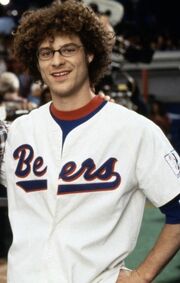 Voices on South Park
Works
Cannibal! The Musical (1994): actor, co-writer, producer
The Spirit of Christmas (Jesus vs. Santa, 1996; Jesus vs. Frosty, 1992)
Orgazmo (1997): actor, co-writer, producer
South Park (TV series, 1997-present): co-creator, voices, writer, additional music, executive producer
BASEketball (1998): actor
South Park: Bigger, Longer & Uncut (1999): voices, co-writer, producer
"Even If You Don't" by Ween (music video, 2000): director
That's My Bush! (TV series, 2001): co-creator, writer, executive producer
Team America: World Police (2004): co-writer, voices, producer