Mary Kay Bergman, also credited Shannen Cassidy (June 5, 1961 – November 11, 1999) was an American actress, voice artist, and comedienne, who was the primary voice actress for female characters on South Park as well as South Park: Bigger, Longer & Uncut. She was also well known at the time as a voice actress for Disney, where her voices included Snow White.
After her death during the third season, she was replaced by voice actresses Eliza J. Schneider and Mona Marshall for her major roles.
Background
After the original pilot version of "Cartman Gets an Anal Probe" was completed and picked up as a series, Bergman joined the show as the primary female voice actress. Karri Turner had provided the original voices of Wendy Testaburger and Liane Cartman, but Bergman re-dubbed the lines for the broadcast version of the episode. As the primary voice actress, Bergman voiced all recurring female voice roles, though incidental roles, such as Kelly were sometimes played by others.
Before she became identified with South Park, Bergman was primarily known for her work with Disney, and felt she had been typecast into playing "sweet, cute" characters. As a result of this, she was credited for all of Season One and the first half of Season Two under the alias Shannen Cassidy, which was eventually retired for her real name. She would later appear prominently in the Goin' Down to South Park mockumentary as herself.
Death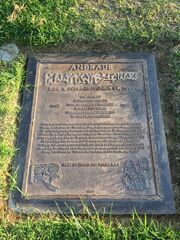 Bergman had suffered from bipolar disorder and generalized anxiety disorder for a long period, but had largely hidden these disorders from family and friends. Her mental health worsened when her mother was diagnosed with cancer, and she became anxious about "losing" her talent, feeling she would inevitably lose her career. She was featured in a radio show to celebrate Disneyland's anniversary on the morning of November 11, 1999, but was discovered later that evening by her husband and a close friend, having shot herself. She was pronounced dead by a police officer shortly afterwards.
Her last new character was Rebecca Cotswolds in "Hooked on Monkey Fonics", and the next episode to air, and the last to feature her voice for new dialogue, "Starvin' Marvin in Space" was dedicated to her memory. Matt Stone and Trey Parker sought to avoid featuring female characters for much of the rest of the season as a result of her passing, and felt it would be difficult as well as disrespectful to replace her immediately.
In a March 2000 interview, South Park creators Matt Stone and Trey Parker said about Bergman:
"We kind of realized right away that one person wasn't going to do it, cause that's what she was amazing at, which was she could do so many different voices, and we had her just do all of them cause she could. And so we knew, and we know, we're still in the process of finding a lot of talented voice people there that can do one or two of the voices that she did. But it's going to take four to five people to replace her. ... Because we are in this thing where we do shows two weeks ahead of time, when it happened it was really tough because we had three shows to do ... and we knew we weren't going to find anyone at the time, so we just wrote three episodes with no female characters in them."
The last episode to feature Bergman's voice was "Mr. Hankey's Christmas Classics", which featured songs from the album of the same name recorded by her before her death, most notably Sheila Broflovski and Shelly Marsh in the finished episode. A final tribute to Bergman was included during the final musical sequence as the boys and Mr. Hankey sing "Have Yourself a Merry Little Christmas", featuring clips of all of the characters she played during "Faithful friends who are dear to us", and her most prominent characters joining Stan and Kyle during the line "Gather near us once more". This is, to date, the last episode of the show to feature Bergman's voice or contributions in any form.
Voice actress Eliza J. Schneider was eventually cast shortly before the conclusion of the third season, and made her debut as Bergman's character Veronica Crabtree in "World Wide Recorder Concert". Bergman's other characters would not reappear for a while longer, until the fourth season. Since then, South Park has employed a number of female voice actresses, including Schneider, Mona Marshall, April Stewart, Jessica Makinson, Elise Gabriel, and Colleen Villard, although only Stewart and Marshall currently voice Bergman's former characters.
Bergman is buried at Forest Lawn Memorial Park in the Hollywood Hills, and her grave features engraved images of Liane Cartman, Sheila Broflovski and Wendy Testaburger.
The 72nd Academy Awards
Bergman had originally been considered to perform "Blame Canada" at the 72nd Academy Awards, which had been nominated for an Oscar, but after her death, the song was instead performed by Robin Williams in tribute to Bergman. The song ultimately lost to Phil Collins' "You'll be in My Heart," from Disney's Tarzan, which started the Collins teasing on South Park.
Voices
Other Works
Timmy Turner - Oh Yeah! Cartoons
Daphne - Scooby-Doo
Snow White (Disney)
Jay-Jay, Herky, Savannah, Revvin' Evan - Jay Jay the Jet Plans
References