This list is for minor characters from the thirteenth season of South Park.
Billy Mays
Billy Mays was a salesman who appeared in "Dead Celebrities" as a ghost.
Caine
Caine is the cashier for the Sur la Table store in "Margaritaville".
Carlos Mencia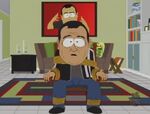 Carlos Mencia appeared in "Fishsticks" where he claimed to be the originator of the Fishsticks Joke.
Casey Miller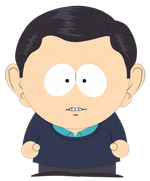 Casey Miller is a third grade student who appears in "Dances with Smurfs".
Ellen DeGeneres
Ellen DeGeneres is an American comedian who appeared in the episode "Fishsticks" where she had Eric Cartman on her talk show.
Emmett Hollis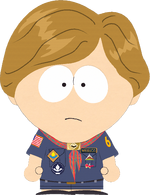 Emmett Hollis was a contestant in the Pinewood Derby competition in "Pinewood Derby".
Emperor Akihito
Emperor Akihito is the emperor of Japan who appears in "Whale Whores".
Guleed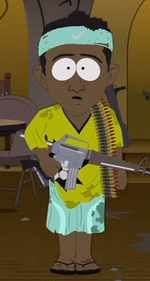 Guleed was one of the pirates that Cartman meets in Somalia in Fatbeard.
Harley Riders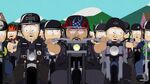 Harley Riders are noisy motorbike riders who appear in "The F Word".
Intergalactic Police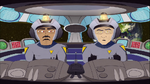 The Intergalactic Police appeared in the episode "Pinewood Derby" along with Baby Fark McGee-zax to test Planet Earths' integrity to see if they were of suitable material to join the Federation of Planets.
Jonas Brothers
The Jonas Brothers are a pop-rock boy band, famous for their appeal to "tweens". They appeared in "The Ring".
Kanye West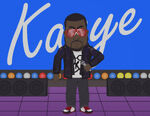 Kanye West is a rapper and musician who appears in the episode "Fishsticks" as an egotistical self referenced genius who doesn't understand the Fishsticks Joke.
Kevern Zaksor
Kevorn Zaksor appeared in "Pinewood Derby", where he posed as a notorious gangster who was under pursuit by the Intergalactic Police for stealing "space cash."
Mickey Mouse
Mickey Mouse appeared in the episode "The Ring", in which he is seen as the owner of the Disney Company and boss to the Jonas Brothers.
Mr. Conners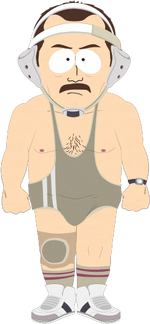 Mr. Conners is the former wrestling teacher at South Park Elementary, who appeared in "W.T.F.".
Mr. Hollis
Mr. Hollis is Randy's rival who appears in "Pinewood Derby".
Paul Watson
Paul Watson is shown in the episode "Whale Whores" as a captain of the ship "Sea Shepherd" fighting against Japanese killing dolphins and whales in his TV show "Whale Wars".
Pi-Pi
Pi-Pi is the owner of Pi Pi's Splashtown who appears in "Pee".
Queef Sisters
Katherine and Katie Queef are two Canadian comedy actresses, who appear in "Eat, Pray, Queef".
Sally Darson
Sally Darson is a South Park Elementary student who appeared in the episode, "Butters' Bottom Bitch". She is a schoolyards version of a prostitute, as she exchanges kisses for money.
Samantha Dunskin
Samantha Dunskin appeared in "Eat, Pray, Queef", where she queefs in Butters Stotch's face which cause the male parents to want to expel her for this.
Smurfs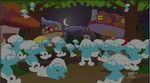 Smurfs are a fictional species who appear in "Dances with Smurfs".
Tammy Warner
Tammy Warner was Kenny's girlfriend in "The Ring".
Vince McMahon
Vince McMahon is the Chairman of WWE who appears in "W.T.F.".
Community content is available under
CC-BY-SA
unless otherwise noted.