For other uses, see Linda (disambiguation).
Linda Triscotti is a minor character that has, so far, only appeared in "Go God Go". She is from a strict Catholic family who reprimanded the school for trying to teach her and the other 4th grade students evolution. The only known information about her name is her last name, Triscotti[1].
Appearance
She has dull brown hair with a purple clip in it. She appears to be a combination of Sally Turner and Heidi Turner. She wears a green coat with red trim and dark blue pants.
Personality
She seems to have a compassion to learn, telling her parents that she wants to learn evolution despite their strict Catholicism.
Family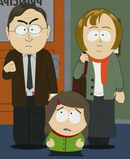 In "
Go God Go
", her parents learned that
South Park Elementary
was teaching evolution, which angered them due to them being strict Catholics. They later complained to
Principal Victoria
that their daughter should not be learning evolution due to her faith. Despite her pleas that she wants to learn, her parents had her pulled out of the class.
References
Community content is available under
CC-BY-SA
unless otherwise noted.