Lil' Qties is the children's branch of the conspiracy theory group QAnon. They are one of the main antagonists of the Season Twenty-Four episode, "South ParQ Vaccination Special".
Background
Several parents hire QAnon members as private tutors for their kids after pulling them out of school as a result of Mr. Garrison returning to South Park Elementary. This leads to some of the kids being brainwashed and forming Lil' Qties to stop the Kommunity Kidz from distributing the COVID-19 vaccines to the teachers. They believe the vaccines are harmful because the Hollywood Elites put mind-control chips in them.
Members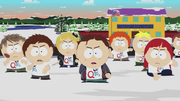 The members of Lil' Qties are Scott Malkinson, Clyde Donovan, an unnamed blonde girl, Butters Stotch, DogPoo Petuski, Nate, Red McArthur, Adam Borque, and Millie Larsen. Butters claims that he participates in the group because he wants to believe in something that would get him out of his house, no matter what it is.
Prominence
Movies
Trivia
The group (along with their poses) are a reference to the controversial French film licensed by Netflix, Cuties.