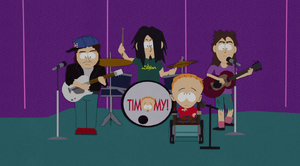 Lalapalalapaza is a fictional music festival that appears in the episode, "Timmy 2000".
History
When Timmy Burch joins the band The Lords of the Underworld, they perform at the annual Battle of the Bands competition, where they win and allowed to perform at the Lalapalalapaza Music Festival, opening for musician Phil Collins. However, when The Lords of the Underworld become more famous than him, they are given top billing, with Phil Collins doing the opening. Furious, Collins attempts to destroy the band by getting the leader guitarist Skyler to quit. Eventually, he's successful, however, Collin's music is so unpopular with the crowd that he is booed off stage, being replaced with the reunited Timmy & The Lords of the Underworld.
Trivia
Lalapalalapaza is a parody of Lollapalooza, a real world music festival.
A running gag in the episode is that nobody ever says Lalapalalapaza correctly and makes it sound more unintelligible every time it is said.