Kelly and Stacy are characters that were cited by Shelly in the Season Eighteen episode, "#REHASH". They are cited when Shelly asks her parents to go to the Women of Rock show with her friends Kelly and Stacy. They are later seen alongside Shelly during the show watching the Lorde. They are sometimes seen in cafeteria scenes talking to other 6th Graders.
Appearance
Kelly has shoulder-length curly blonde hair and wears a long-sleeved gray shirt with green flowers on it, blue jeans and black shoes. Stacy has braided brown hair and wears a pale green waistcoat over a dark green shirt, gray pants and black shoes.
Quotes
Here she comes! - Stacy ("Breast Cancer Show Ever")
Prominence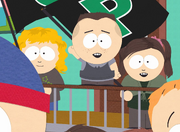 This list is incomplete, you can help by adding to it!