Karen McCormick is the youngest member of the McCormick family. She first appears as a background character in "Best Friends Forever". She later appeared in "The Poor Kid", where she played her first major role. Kenny is very protective of her, using his identity, Mysterion, to comfort her in hard times and keep her out of danger. Kenny's protectiveness as Mysterion extends to such a degree that she considers him her "guardian angel".
Appearance
Karen always wears a green jacket with a velvet collar, dark blue pants and black shoes, and rarely wears velvet mittens. In her first appearance, she has dirt over much of her face and her clothes, and her hair is slightly messier. By her second appearance, she is clean besides dirt over her left eye with her jacket having no scrapes or tears. For pajamas, she wears a pink-collared light blue shirt with pink and purple hearts and pink bottoms, or a magenta-collared pink onesie with magenta flowers all soiled.
In "The City Part of Town", her appearance has been slightly upgraded with her hair now tied back with purple bows in pigtails and her face and jacket being messy again. Her Heidi-like hair was possibly used as a Placeholder hairstyle for animation testing.
In From Dusk till Casa Bonita, after becoming a vampire, her pig-tailed hair is styled differently (similar to the Emo Ponies hairstyle found in-game) and colored black with dark purple accents. She wears a black top with peaked illusional sleeves, an image of a skull and crossbones on it, as well as magenta pants, an o-ring necklace, a punk spiked bracelet and fingerless gloves. Her face still looks dirty as with her original form in the main game, despite her skin color being darker, though it is accented with purple eyeshadow makeup.
In South Park: Post Covid, Karen appears as an adult woman. She wears a buttoned up shirt with a similar green and velvet color scheme, and has a pixie cut with a velvet-colored bow. Karen also notably wears a necklace with Mysterion's question mark symbol.
To see images of Karen McCormick, visit Karen McCormick/Gallery.
Personality
Karen seems to be relatively quiet and timid, thus indicating shyness. She is often seen with Kenny, as she trusts him to be right next to her. She is usually seen crying when dealing with stressful situations. When Mysterion is around, Karen seems to feel safer and calm, since she does refer to him as her 'Guardian Angel'.
Sometimes, Karen carries her pink princess doll around with her, or mostly stays around either her brothers or her mom. It seems that Karen is lonely all the time and that she has very few friends, including Kevin and Kenny. When Kenny buys her a new doll in "The City Part of Town", the first thing she does is start talking to it, possibly for social reasons. She also seems to be naïve as to what might harm her or anyone, as shown in "Naughty Ninjas", where she brings a used syringe previously owned by homeless people back into her house.
Family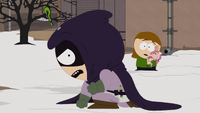 Kenny is Karen's older brother. She seems to have a real good relationship with him, especially with his alter-ego, Mysterion, to such an extent she considers him her "Guardian Angel". She also seems to look to Kenny for protection and comfort when she is upset; this is shown when the McCormick siblings are in the Soft Room at the police station and Karen is clutching Kenny's arm hard. Kenny is extremely protective of her and loves her dearly, even though Kenny was scared of having a younger sibling.
Carol is Karen McCormick's mother. She really seems to love her mother, even after being through years of abuse likely due to her parents' fighting. She seems to go to her mother when she is scared, as shown in "The Poor Kid" when she's seen crying in her mother's arms when her family was fighting. When she and her siblings are in The Soft Room, she immediately asks if she can see her mother.
In "The City Part of Town", she sits on her mother's lap during the gentrification meeting and sits close to her on their couch at home. When Karen asks her if they can eat at the SoDoSoPa, Carol seems to be more patient with her than Stuart, who immediately yelled at her about how costly ice cream is.
Carol also started yelling about Karen's protection when she brought in a syringe from the homeless in "Naughty Ninjas".
Stuart is Karen McCormick's father. They have not interacted much, so very little is known about their relationship. She seems to be scared and insecure of him, as shown in "The Poor Kid" when she cries when he and Kevin fight, and in "The City Part of Town" when she cowers and leaves the room after he yells at her.
However, it shows that Stuart does care about her, along with Kevin and Kenny, in "Naughty Ninjas" when he argues with the police about how the homeless living outside of their house are scaring his kids.
Kevin is Karen's oldest brother. It is apparent that she isn't as close to Kevin as she is to Kenny, since they have never been shown interacting one-on-one and she cries when he and Stuart fight in "The Poor Kid". However, in "Best Friends Forever", she is seen hiding behind Kevin in the hospital. It is likely that she trusts Kevin. In "The City Part of Town", it is shown that they share a bedroom.
Prominence
Movies
Video Games
Karen can be found in the McCormick family residence watching TV. She says that Princess Kenny texted her about how cute New Kid is, and asks the New Kid to watch over her "sister" for her. She strangely never mentions Kevin in the game.
In South Park: The Fractured But Whole, Karen has been updated to her latest look. She is available in her bedroom on Day 3 onwards in-game, whereby The New Kid can take a selfie with her after returning her current doll, which can be found in the Soft Room inside Park County Police Station.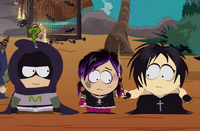 Karen plays a major role in the From Dusk till Casa Bonita DLC, with a new appearance. She is "kidnapped" by the Vamp Kids and brought to Casa Bonita, where she turns into a vampire during a birthday party. Mysterion, Henrietta Biggle and The New Kid try to rescue her. Along the way, she is possessed by Corey Haim, who was accidentally summoned by Mr. Adams. After he is defeated, she goes back to normal, and finally realizes how "completely fucking lame Vamp Kids are". Karen tells Mysterion she joined them because she's lonely and often sees Kenny off with his friends instead. Henrietta recommends her to become goth if she doesn't need friends, starting with smoking her cigar holder. This was later discontinued after Kenny sends a message on Instagram that he will play with her more, with Henrietta replying that playing with each other isn't goth.
Trivia
In the original script for Starvin' Marvin, Kenny was referenced to have a sister but she never appeared in the finished episode.
In more recent episodes, Karen is seen a lot more with her family, along with Kevin and Kenny.
Karen's "vampire hair" is a kind of hair available for equipping in the game, but it's called "Emo Ponies" in the Costume app.
Her vampire appearance greatly resembles Allison Mertz.
The doll Kenny gave her, Mama Baby, is a parody of Baby Alive.
References