Jerry Jones is the owner of the Dallas Cowboys American football team. He appears in the Season Eighteen episode, "Go Fund Yourself".
Background
After Dan Snyder loses the rights to the Washington Redskins name, he calls a meeting of the NFL owners and asks for help. During the meeting he states that Jerry Jones' eyes are "too far apart", which Jones disputes. Later in the episode, Jones is seen recieving a blowjob from an unnamed woman with his eyes (which are definitely too far apart) bulging out and pointing in different directions.
He is seen again in "Moss Piglets" holding special needs children hostage.
Appearance
Jerry Jones wears a black business suit with a red tie. He has gray hair which is whiting on the sides, and his eyes are too far apart.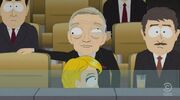 Prominence
References