"If You Leave Me Now" is a soft rock ballad by Peter Cetera of Chicago. It has been sung by Butters in two episodes; the Season Seven episode, "Casa Bonita", and the Season Eight episode, "AWESOM-O".
Background
In "Casa Bonita", Butters Stotch sings this song while in the bomb shelter Eric Cartman tricked him into staying in because of an apparent catastrophe.
In "AWESOM-O", Butters sings this again while he and Cartman, disguised as the A.W.E.S.O.M.-O 4000, go to bed. However, he is unable to finish the song, as Cartman makes him stop singing.
Lyrics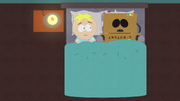 If you leave me now
You'll take away the biggest part of me
Ooh-ooh, no, baby please don't go
And if you leave me now
You'll take away the very heart of me
Ooh-ooh, no, baby please don't go
Ooh-ooh, girl, I just want you to stay

A love like ours is love that's hard to find
How could we let it slip away?
We've come too far to leave it all behind
How could we end it all this way?
When tomorrow comes and we'll both regret
The things we said today

A love like ours is love that's hard to find
How could we let it slip away?
We've come too far to leave it all behind
How could we end it all this way?
When tomorrow comes and we'll both regret
The things we said today

If you leave me now
You'll take away the biggest part of me
Ooh-ooh, no, baby please don't go

Ooh, girl, just got to have you by my side
Ooh-ooh, no, baby please don't go
Ooh, my, my, I just got to have your loving (hey, hey)