This page contains trivia for "I'm a Little Bit Country". Remember, trivia must be factual, provable, and it is always best to cite your source for not-so-obvious trivia. If you would like to dispute a trivia point, please discuss it in the talk page.
Trivia
This is the 100th episode of South Park.
Slash and Mick Fleetwood can be seen in the background on the stage.
Even though Cartman knows who Adolf Hitler is, he does not pronounce Nazi correctly (his pronunciation of it is similar to that of Winston Churchill). Instead of "Nat-see", he says "Nay-zee".
Starvin' Marvin is seen in the crowd at the end of the episode. This is his only appearance in the series outside of the Season One episode of the same name and the Season Three episode "Starvin' Marvin in Space".
The characters break the fourth wall at the end of the episode by acknowledging that it is the 100th episode.
The episode title is reference of the song "A Little Bit Country - A Little Bit Rock and Roll" by Donny and Marie Osmond.
Renowned television producer Norman Lear played Benjamin Franklin. However, despite allegations that Lear's All In The Family character Archie Bunker served as an inspiration for Eric Cartman, there are stark differences in their personalities, such as Cartman's more timid bigotry and less conservative ideology. Unlike All In The Family, South Park also focuses mainly on humor rather than social issues.
Pro War vs. Anti War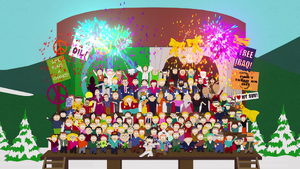 Pro War
Anti War
Goofs
During the final crowd scene, Officer Barbrady is visible in the first shot, but disappears during the second, replaced by a second Joseph Smith.
There are two Carols in the final crowd scene, one is by her husband Stuart and another is hidden slightly in the bottom right part of the frame.
There are six duplicates of Joseph Smith in the crowd.
Cartman flashes back to the year 1776 and finds the Continental Congress debating war with England. In actuality, the war had already begun on April 19, 1775 with the Battles of Lexington and Concord.
Hidden Visitors
At the end shot of the crowd, there is a hidden visitor in the far back between David Blaine and Joseph Smith.