The Hillbilly Brigade[1] was a group of rednecks who appeared to be against racism, to such a degree that they threatened presumed racists with violence. They appeared in the episode "With Apologies to Jesse Jackson".
Background
After Randy accidentally said the word "n*****" on Wheel of Fortune, he became the pariah of the town. After being caught by the seemingly stereotypical rednecks, it is revealed that they are actually grossly against racism, unlike the stereotypical redneck. They hold Randy up and were presumably going to kill him for "defiling" the African-American race. However, before they can do this, Michael Richards, as well as several other Caucasian males who have said "n*****", come to Randy's defense. The Hillbilly Brigade is later seen when Randy, Michael Richards, and other "n*****guys" were trying to get the word "n*****guy" banned. They were seen complaining about how the "damn n*****guys are being all political right now".
They later appear in "Margaritaville" and as part of the protesting rednecks in "White People Renovating Houses".
Video Games
The New Kid will encounter and fight the rednecks in Always Bet on Chaos, The Talk, The Talk 2: The Gendering and Touch the Sky.
Abilities
Beer Bash - Eddie will smack a character with his beer bottle.
The Boot - Cleetus kicks the opponent three times and inflicts knockback.
Beer Chuck - Skeeter throws a can of Pabst Blue Ribbon.
Appearance
Eddie wears gray pants and a blue sleeveless shirt, which as a small Confederate flag and his name tag on his left side. He is mostly bald but has orange hair on the sides of his head and shoulder length hair on the back of his head. He has a long orange mustache and wields a large shotgun.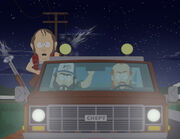 Skeeter wears blue jeans, a belt with a large silver buckle, a white shirt with an American flag design, and a red flannel vest. He has receding, light-brown hair. He also wields a large shotgun.
Cleetus wears dark gray pants, a green flannel vest, and a blue cap with a picture of a handgun on it. He has dark brown hair, a brown beard, and a brown mustache. He too wields a similar shotgun to the other men.
Prominence
References