The Hankey Residence is the Hankey family's house located in the sewers below South Park. It makes its only in-show appearance in the Season Four episode "A Very Crappy Christmas".
Appearance
Exterior
The exterior of the house appears to be made out of several trash items, such as a baby bottle being used on the left side and an opened can of baked beans being used as a garage, where a red wind-up car is parked. The house is donned with many Christmas lights and a wreath on the front door.
Interior
The only two rooms that were seen in the house are the living room and Cornwallis' room. They both have dark blue carpet, the former has dark green walls, and the latter has lime green walls.
Residents
Prominence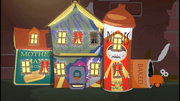 During the side quest Dropping the Kids Off, the New Kid meets Mr. Hankey and his wife at the house. Mr. Hankey asks The New Kid to find his children, after which both he and Autumn will give The New Kid a friend request. The residence seems to have a slightly darker color scheme here than its show appearance.
‎