Halfy, pronounced "Half-ee", is an amputee, who first appear in the Season One episode, "Mr. Hankey, the Christmas Poo".
Background
He later received his first speaking role in "Cartman's Mom is a Dirty Slut". In his early appearances, he would claim that he would have sex with various things/people, only to be told, "You don't count Halfy, you don't have any legs", to which he would reply, "Oh. Yeah."
Halfy can be spotted at the starting line of the South Park "Running of the Cows" in the Season Two episode, "Cow Days". He appears in the Season Seven episode, "I'm a Little Bit Country", singing, "I'm a little bit country, I'm a little bit rock and roll".
Halfy finally makes another appearance, in the Season Twenty-Four episode, "South ParQ Vaccination Special", after a long absence from the show. In this episode, he is seen celebrating the end of the pandemic with other citizens.
Appearance
Halfy has long, messy brown hair, an equally messy beard, and thick, brown eyebrows. He wears a green shirt and rolled up, brown pants, that are possibly sealed at the knee. In "I'm a Little Bit Country", he wears a yellow ribbon near his right shoulder. In "South Park: Bigger Longer & Uncut" he used a wheelchair and had a mustache instead of a beard.
Personality
He seems to want to attract attention by blaming himself for things that others would not be proud of, for example in "Chickenlover", he admitted that he would have sex with a chicken. He also seems to be insecure about his amputations, becoming upset when Mr. Garrison told him "You couldn't screw anything! You don't have any legs!".
Trivia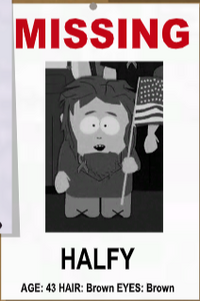 Judging by his looks, he may be a reference to Lt. Dan Taylor from the 1994 film Forrest Gump.
In "Conjoined Fetus Lady", Sheila Broflovski read the boys a book about freaks. On the cover page, a man who looks exactly like Halfy, only with grey hair, can be seen.
When he is happy, he jumps into the air and does somersaults.
In South Park: The Stick of Truth, there is a poster of him in the police station saying that he is missing.
It is possible he may have gone missing after the events of "I'm a Little Bit Country".
In Mr. Hankey, the Christmas Poo, he has blonde hair even though his beard is still brown.
The Poster revealed that he is 43.
Prominence
References