Gordon Stoltski was a third grade ginger kid who did the morning announcements for South Park Elementary. He was one of the kids Cartman rallied up in "Ginger Kids" to help fight discrimination, "Ginger Kids" was his first speaking role. He was heard reading the morning announcements and he tried to join Cartman's pirate club in "Fatbeard". He was murdered in the episode "Dances With Smurfs" by a man who confused him for a 40-year-old truck driver who supposedly had sex with his wife. Cartman later took over his post as morning announcer.
Appearances
---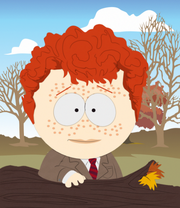 Community content is available under
CC-BY-SA
unless otherwise noted.