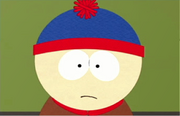 Facebook is a social networking website which allows members to talk communicate and interact with other people digitally, as well as play games and other assorted activities. Facebook appears as the prime subject of the Season Fourteen episode, "You Have 0 Friends" and the Season Twenty-One episode, "Franchise Prequel".
Background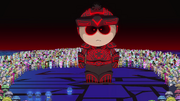 When Stan Marsh is the only member of the boys to not have a Facebook page, his friends bring it upon themselves to create a Facebook page for him. The unwilling Stan suddenly finds himself barraged by his friends, family, and even his girlfriend, Wendy Testaburger, into using his Facebook page, despite his persistent notions that he wants nothing to do with it. Despite Stan being the least interested in keeping up with Facebook, he finds that his page has become one of the most popular pages on the network. This does not matter to him, and finally fed up with constantly being insulted and abused and bullied, he opts to simply delete his account.
Facebook, however, would not let that happen. The massive amounts of attention that Stan's page has received, has allowed it to become sentient. In order to maintain its control, Facebook digitally kidnaps Stan and draws him into a digital universe, in hopes that Stan will be destroyed during the great game of Yahtzee.
Stan however defeats his Facebook profile, allowing him to return to the real world and delete his account. He transfers all of his Facebook friends to Kip Drordy, whose lack of popularity was apparently social suicide for anyone who be-friended him, as Kyle Broflovski discovered.
Professor Chaos uses Facebook as his ultimate weapon against Coon and Friends, he sets up a company at Circuit City, hires chaos kids to spread lies and rumors about Coon and Friends through Facebook, in order to damage Coon and Friends' public image. He even pays Mark Zuckerberg, the owner of Facebook, $17 for personal protection.
This has destroyed the Coon and Friends' franchise plan on Netflix, so they decide to use a little scheme to take down Zuckerberg and his website, thus spoiling Professor Chaos' plan. They engage in a Kungfu battle with Mark Zuckerberg and act like being beaten. They then claim themselves to be fighting for the rights of black people, handicapped people, and Jewish people. And most important of all, they live broadcast the fight on Facebook Live.
As a result, eager to protect himself from public accusations, Zuckerberg temporarily shuts down Facebook at the end of the episode.
Facebook serves as the player's main hub, where they can access their inventory and see recently given quests.
Aspects
FarmVille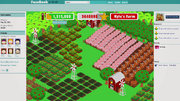 FarmVille is a parody of a Facebook farming game of the same name, in which players are allowed to plant and harvest crops, feed animals, and make friends if somebody else is on the farm.
This game became something of an addiction for Kyle, who upon losing all his friends, had to essentially beg Stan into friend him and play the game so Kyle's farm would continue to thrive.
When Stan is sucked into Facebook, he is able to travel to Kyle's FarmVille game so as to communicate with him, demanding help on how to get out.
Yahtzee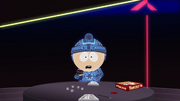 Yahtzee is a game in which players must throw dice and try to get all of the dice to six. If the player manages to accomplish that, they are considered the winner.
While introducing Stan to the joys of Facebook, Kyle explains that the original game was adapted to Facebook, in a digital format to where players can play the game with other members online. Stan of course is less than impressed with the idea, finding Yahtzee rather dull to begin with.
When Stan is literally sucked into Facebook through his web-cam, he finds himself being forced into playing Yahtzee in order to survive within the digital world. His first game is against a random player, who is then deleted upon his defeat, and then against his sentient Facebook profile. Both times, he is victorious with one roll of the dice.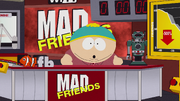 Taking it upon himself to help people make friends, Cartman creates a series of podcasts called Mad Friends, where he reports friend numbers similar to a stock market and gives advice on who to friend and who to remove.
Stan came across the podcast after being bullied into updating his Facebook page. The video he watched involved Cartman taking shots at Kyle and convincing everyone to de-friend him due to his friendship with Kip Drordy. Cartman's podcast apparently has a high-viewership, as Kyle soon found himself with only Kip as a Facebook friend. Cartman also urges kids to Friend Clyde Donovan, as his Birthday is coming up, and his mother intends to take Clyde and his friends to Casa Bonita. Cartman's behavior and podcast is a parody of Jim Cramer, the host of CNBC's Mad Money.
Trivia
Most of the kids are not old enough to have Facebook accounts, as per Children's Online Privacy Protection Act (COPPA), all users must be at least 13 years old to have an account, yet many profiles have birthdays from 2001 and 2003, which would have made those kids 9 or 7 years old at the time "You Have 0 Friends" aired. The only way for them to bypass this restriction would be to enter a fake birthday.
External Links