Dougie O'Connell is a 2nd Grade student at South Park Elementary. He made his debut appearance in the Season Three episode, "Two Guys Naked in a Hot Tub", where he was seen playing with Butters Stotch, Pip Pirrip, and to a lesser extent, Stan Marsh. Originally in first grade, he advanced to the second grade in the Season Four episode, "Fourth Grade". He often appears as Professor Chaos' sidekick, General Disarray.
Personality
Dougie is shown to be a loud and lonely kid. Like Butters, he is often picked on. He hangs out with other outcasts and is claimed to be a nerd by others. He also is very knowledgeable of The Simpsons. He is also not afraid to speak back, as he called Stan a "sourpuss".
Background
Dougie, Pip, Butters, and Stan are at Mr. Mackey's meteor shower party in "Two Guys Naked in a Hot Tub". Much to Stan's chagrin, the former three start playing 'Wickershams and Ducklers'. Dougie calls Stan a sourpuss for not joining in.
Moving on to playing Charlie's Angels, the four boys embark on a mission to leave the room through an air vent Dougie finds. After their next mission, they watch a news report about the ATF raiding Mackey's house. Dougie makes a video and Butters delivers it to a reporter, defusing the situation.
In "Cartman's Silly Hate Crime 2000", Dougie is sledding at school with Pip, Tolkien, and Clyde. Shortly after this, in "Fourth Grade", Dougie advanced from the first grade to the second grade.
Butters is fired as the boys' fourth friend and becomes Professor Chaos in the eponymous episode. Dougie joins the group of candidates auditioning to fill the role but is quickly eliminated without having a proper chance.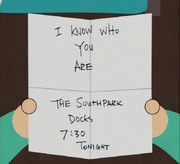 He then learns of Butters' secret identity and becomes his sidekick as General Disarray. The two try, unsuccessfully, to "destroy" the world by flooding it with a garden hose and by destroying the ozone layer with aerosol spray cans.
General Disarray
Main article: General Disarray
In the episode "Professor Chaos", Dougie auditions to be the new fourth friend of the main characters. He fails, though, and decides that he is an outcast. After discovering Butters' secret alter-ego, Professor Chaos, he requests to join Butters in his attempts at world demolition. Butters agrees, and dubs Dougie, "General Disarray". Their plots of flooding the world with a garden hose, and then destroying the ozone layer with cans of aerosol spray ultimately fail. Butters then tries to come up with various ideas, but Dougie tells him each time that the Simpsons already did them.
Dougie often shows more willingness than Butters to go through with his "evil" plans when in his alter-ego. This is showcased in the episode "The Coon", where he suggests betraying The Coon by blowing him up alongside a hospital.
Appearance
He has curly red hair and freckles. He wears an olive-tan sweater with a little dragon embroidered on the chest, blue trousers, and black-rimmed glasses. He also appears to have a slight lisp.
His "General Disarray" uniform is similarly constructed to Professor Chaos'. It is made of aluminum foil, and consists of aluminum-covered glasses, aluminum gloves, an aluminum shirt, a badge with the initials "G.D." on it, and a brown belt with a golden buckle.
In the episode "The Simpsons Already Did It", he resembled Bart Simpson (though still dressed the same) while Butters was hallucinating.
To see images of Dougie O'Connell, visit Dougie O'Connell/Gallery.
Trivia
Dougie appears on the school bus dressed in drag during the pre-fourth grade theme song in Season Four.
Dougie is shown to be a fan of The Simpsons in "The Simpsons Already Did It".
Though Dougie continues to help Butters in his schemes to destroy the world, he doesn't appear in the episode "Good Times with Weapons", despite Butters appearing as Professor Chaos in that episode. They both appear, however, attending the super-villain meeting in "Krazy Kripples". He also explains to Butters in "Go God Go", that Cartman will die if he remains frozen for too long.
In promotions for South Park: The Stick of Truth, it appears that Dougie was planned to be a human warrior. In the game, Dougie is not a warrior of any sort. If you talk to Dougie in the game, he'll tell you that Cartman stated that he was too ginger to play with him.
Dougie was not listed as ginger in the episode "Ginger Kids", despite having red hair and freckles. However, he may have not been included because he does not have light skin, and is, therefore, is a "day-walker", according to Cartman.
He appeared as General Disarray as a boss in South Park Let's Go Tower Defense Play!.
A male relative of Dougie's, possibly a father, can be seen in "Woodland Critter Christmas". In the beginning, Dougie is seen jumping on a man trying to get his attention at a store.
Dougie may have a pet gerbil or guinea pig because one was seen in the episode "The Simpsons Already Did It" next to him with a tin foil uniform such as himself and Professor Chaos.
Dougie likes math, as revealed in "Two Guys Naked in a Hot Tub".
Dougie writes in all capital letters.
He mostly resembles Sherman from the Rocky and Bullwinkle series.
Prominence
Video Games
Although its canonicity is disputed, General Disarray plays a major role in the video game as a villain in the "South Park Docks" level where he is summoned to attack the players' characters near the final waves. Like other bosses, the goal is to keep him from reaching the town or the level is lost. Unlike other bosses, he has lines, and his role is slightly explained: he is under the control of the Japanese Video Game Announcer Voice but is unaware of it. He is not a playable character, although Professor Chaos is.
Both Dougie and his alter-ego play minor roles as friendable characters in The Stick of Truth. Dougie first appears in Butters' front yard and upon asking him a question he says that Cartman says he's too ginger to join his army, then is later found in the Chaos Lair at U-STOR-IT as General Disarray.
In this game, Dougie takes on his General Disarray persona and is seen most prominently in The Hundred Hands of Chaos mission where the New Kid's goal is to defeat him. Along with General Disarray, the New Kid is tasked with avoiding the many chaos minions Dougie summons while also watching out for lava above their head. After this battle, the player will unlock Toolshed's buddy ability, Sandblaster, which is able to clear lava. While the New Kid goes on to defeat Professor Chaos (Character), Captain Diabetes keeps General Disarray in check.
References